ING marathon
Luxembourg to be 'overrun' by 15,000 athletes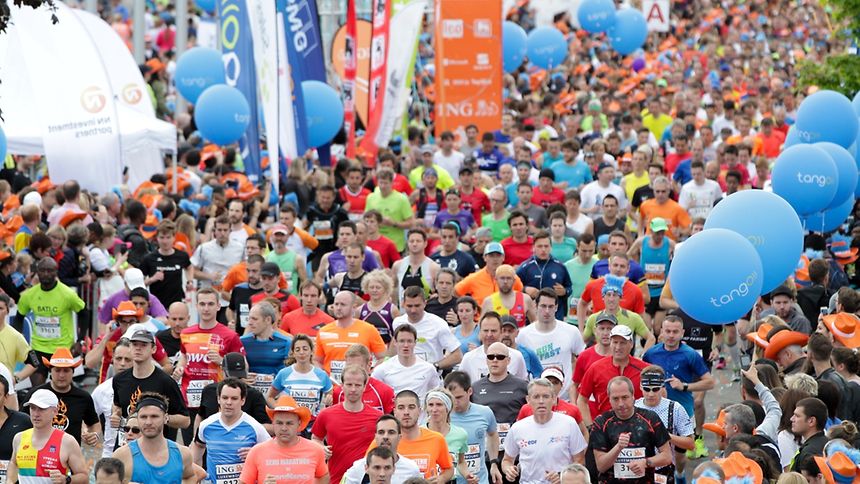 (sth) – Luxembourg's biggest sports event is approaching and is set to hit a new record number of participants.
The 12th annual ING night marathon will take place on May 27 and see 15,000 participants run the streets of Luxembourg City. This year's track has been slightly changed and passes many highlights the City has to offer, including the European buildings in Kirchberg, the Pétrusse Valley and Luxembourg's old town.
The marathon will start at 7pm in Kirchberg close to the Luxexpo building which will also be the arrival. Activities, music and light shows will surround the track and entertain the runners and 100,000 visitors that Luxembourg City is bracing for.
While the lion's share of participants will be amateurs looking for a personal challenge and a fun experience by running either a full marathon, a semi or a team run, the event also promises to be interesting for fans of high performance runners.
Twins, triplets and record holders

Two famous groups of siblings will be at the start. Estonian triplets Lily, Liina and Leila Luik will be in Luxembourg for the marathon for the first time. The 31-year old sisters participated in the Olympic games in Rio in 2016 and were the fist triplets to ever start at an Olympic event together.
The German 'Hahnertwins' Lisa and Anna, who were also in Rio in 2016, are hoping to repeat their good performance. Lisa set a new track record for the semi-marathon distance last year at 1:17:04.
Kenyans Bellor Yator and John Komen -- who both won the marathon twice so far -- will be among the top contenders for the men's crown. Yator is a mountain specialist, which could come in handy on the very hilly Luxembourg course.

Komen is an ex-football player who only began high performance running ten years ago. He does however hold the current track record at 2:12:57, set on his winning bid in 2016.

Race director Erich François is expecting a great race: ''John Komen loves the track in Luxembourg and knows it very well in the meantime. He told me there was room to improve on his record time. But Bellor Yator is highly motivated because he wants to prevent a hattrick from his fellow countryman.''
Luxembourg athletes Fabienne Gehlen and Frazer Alexander -- the fastest national athletes in 2016 -- will also participate.

Team run for refugees and 'Leo Light Village'

The team run is becoming increasingly popular at the ING marathon. A lot of companies set up teams of four people that train and run together.

Because of the high number of refugees in Luxembourg who are interested in running, the organisation and NGOs Care and Sportunity have initiated company teams with refugees for the first time this year. The international teams met over the last few weeks and started training together.
''Sport is one of the nicest ways of integration,'' race director François said. Refugees will also help the Red Cross in the finish area and at refreshment points.
Like every year, the organisers prepared for a lot of activities and entertainment around the race.

Runners who already participated know that especially the last section going up Kirchberg can be very hard on you physically and mentally, which is why this year, more DJs around this part of the track are supposed to give that extra boost you need to get to the finish.
A special highlight will be the 'Leo Light Village' in the Pétrusse Valley starting at kilometre 30. Over a distance of 1,000 metres, a sea of lanterns, torches and lights will welcome the runners. Their supporters can buy torches and run with them for a short distance, giving them additional motivation. All proceeds will go to the NGO Care.
More videos can be found on our video page
Get the latest news by signing up to our newsletter, following us on Facebook or Twitter.