3e édition du VIANDEN INTERNATIONAL MUSIC FESTIVAL & SCHOOL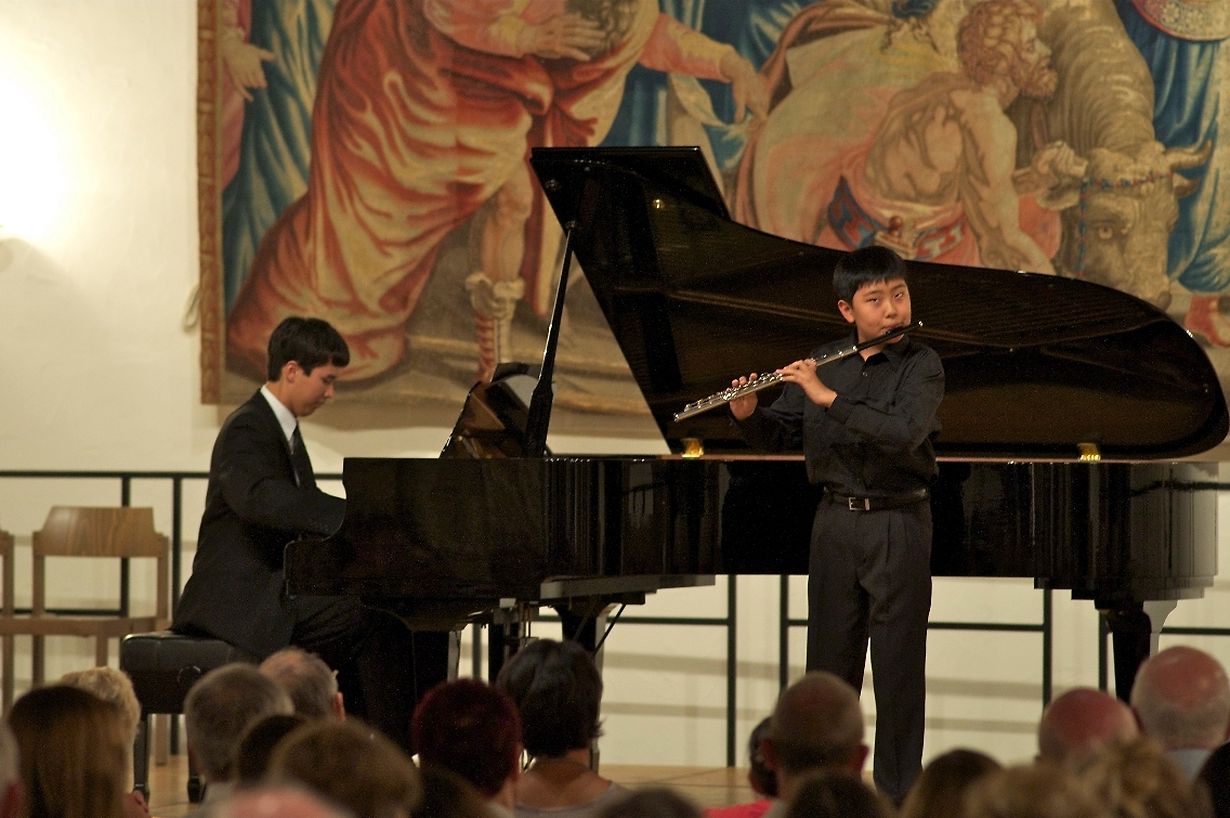 CASTLE-PALACE OF VIANDEN
from 19th August to 28th August 2011
Friday, 19th August at 6.30 p.m.
Opening Concert, given by the teachers
Saturday, 20th August at 6 p.m.
Musical reception offered by the 'Friends of the Castle',
followed at 8 p.m. by a concert of the students
Friday, 26th August at 6.30 p.m.
CONCERT by the « LE VAN FAMILY »
Sunday, 28th August from 4 p.m. on: WALKING CONCERT:
at 4 p.m. : open air in the court-yard
at 4.45 p.m: in the upper chapel
at 5.30 p.m. in the festival hall Vic Abens
at 7.30 p.m. : in the cellar (musical):
The Le Van Sisters & Brother are talent personified. They are accomplished vocalists and violin prodigies. Born and raised in a little village in Alsace, France, they moved to America six years ago to pursue their dreams.
Whether as soloists or an ensemble, this audacious and charming family of world-class musicians has performed worldwide to great acclaim. All three children excel as pianists, violinists, and as vocalists; while their father has been lauded for his own mastery as a pianist As amazing a display of talented brilliance as one could ever expect to be found in a single family, these young people demonstrate just how much fun is to be had while performing onstage with one's siblings (even with Dad on the piano!).
They have just made their debut at Carnegie Hall after Solene won Gold Medal at the American Association for the Development of the Gifted and Talented (AADGT) "Passion of Music" Competition (2010), at which her brother Sean took the Silver Medal.
They have also signed with the jazz label RESONANCE RECORDS to issue a video recording offering a combination of innovative crossover classical and jazz.
Sarah, age 16 and Solene age 14 have given over 400 concerts in various venues: cultural arts and university concert series, theatres for the performing arts, festivals, television shows, jazz clubs, expos, fundraising galas, charities and conventions. Their little brother (age 11) has joined the act more recently.
In the past few years, Sarah and Solene Le Van have been regular guest soloists with the Cypress Pops Orchestra and they have also performed with various jazz/big band ensembles. They have appeared on television as well, especially on DISNEY CHANNEL, KDOC TV, PAX TV ("America's Most Talented Kids") and FOX. They were selected in 2009 to participate in NBC's "America's Got Talent". They have performed in prestigious venues such as Weill Recital Hall, Steinway Hall, Bechstein Music Center Hall in New York, as well as at the Beverly Hilton International Ballroom in Los Angeles.
The Le Van Sisters & Brother play the violin, sing from their heart, and entertain in a medley of classical, Broadway, jazz, salon, folk music, favorite standards and originals as well such as the beloved song "Angel's Wings". They most often perform together in a highly unusual act all of their own accompanied by their father, the American pianist Eric Le Van, or their uncle, jazz pianist Michael Le Van.