Second-Hand Maart fir Kannerkleeder a Spillsaachen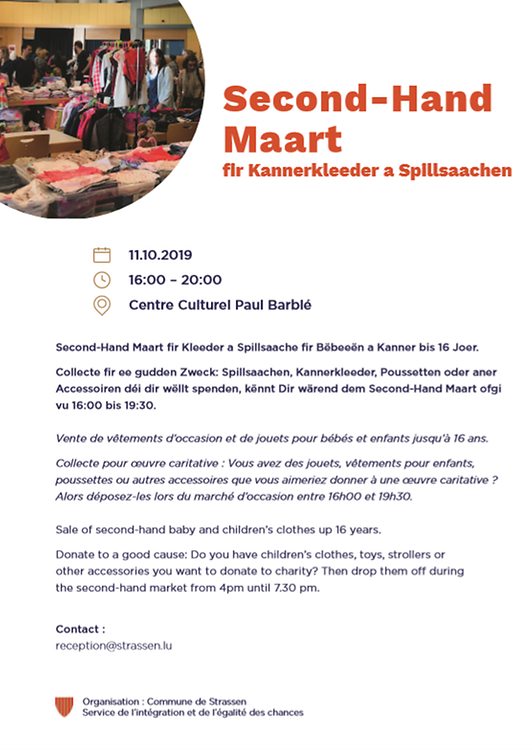 Second-Hand Maart fi r Kleeder a Spillsaache fi r Bëbeeën a Kanner bis 16 Joer.
Collecte fi r ee gudden Zweck: Spillsaachen, Kannerkleeder, Poussetten oder aner Accessoiren déi dir wëllt spenden, kënnt Dir wärend dem Second-Hand Maart ofgi vu 16:00 bis 19:30.
Vente de vêtements d'occasion et de jouets pour bébés et enfants jusqu'à 16 ans.
Collecte pour œuvre caritative : Vous avez des jouets, vêtements pour enfants, poussettes ou autres accessoires que vous aimeriez donner à une œuvre caritative ? Alors déposez-les lors du marché d'occasion entre 16h00 et 19h30.
Sale of second-hand baby and children's clothes up 16 years.
Donate to a good cause: Do you have children's clothes, toys, strollers or other accessories you want to donate to charity? Then drop them off during the second-hand market from 4pm until 7.30 pm.