KufiKa Kultur fir Kanner - Zaubershow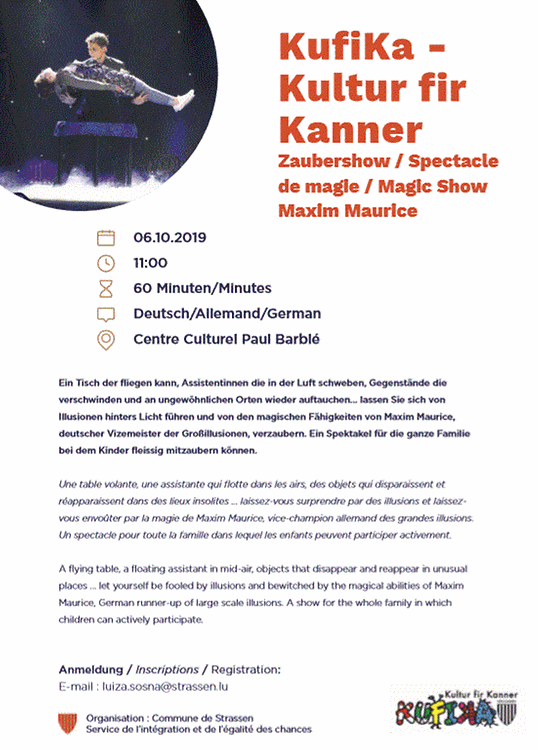 Ein Tisch der fliegen kann, Assistentinnen die in der Luft schweben, Gegenstände die verschwinden und an ungewöhnlichen Orten wieder auftauchen... lassen Sie sich von Illusionen hinters Licht führen und von den magischen Fähigkeiten von Maxim Maurice, deutscher Vizemeister der Großillusionen, verzaubern. Ein Spektakel für die ganze Familie bei dem Kinder fl eissig mitzaubern können.
Une table volante, une assistante qui flotte dans les airs, des objets qui disparaissent et réapparaissent dans des lieux insolites ... laissez-vous surprendre par des illusions et laissezvous envoûter par la magie de Maxim Maurice, vice-champion allemand des grandes illusions. Un spectacle pour toute la famille dans lequel les enfants peuvent participer activement.
A fl ying table, a floating assistant in mid-air, objects that disappear and reappear in unusual places ... let yourself be fooled by illusions and bewitched by the magical abilities of Maxim Maurice, German runner-up of large scale illusions. A show for the whole family in which children can actively participate.