Nei Sänger gesicht ... Schëtter Gesank prouwt vun elo un Dënschdes Owes ...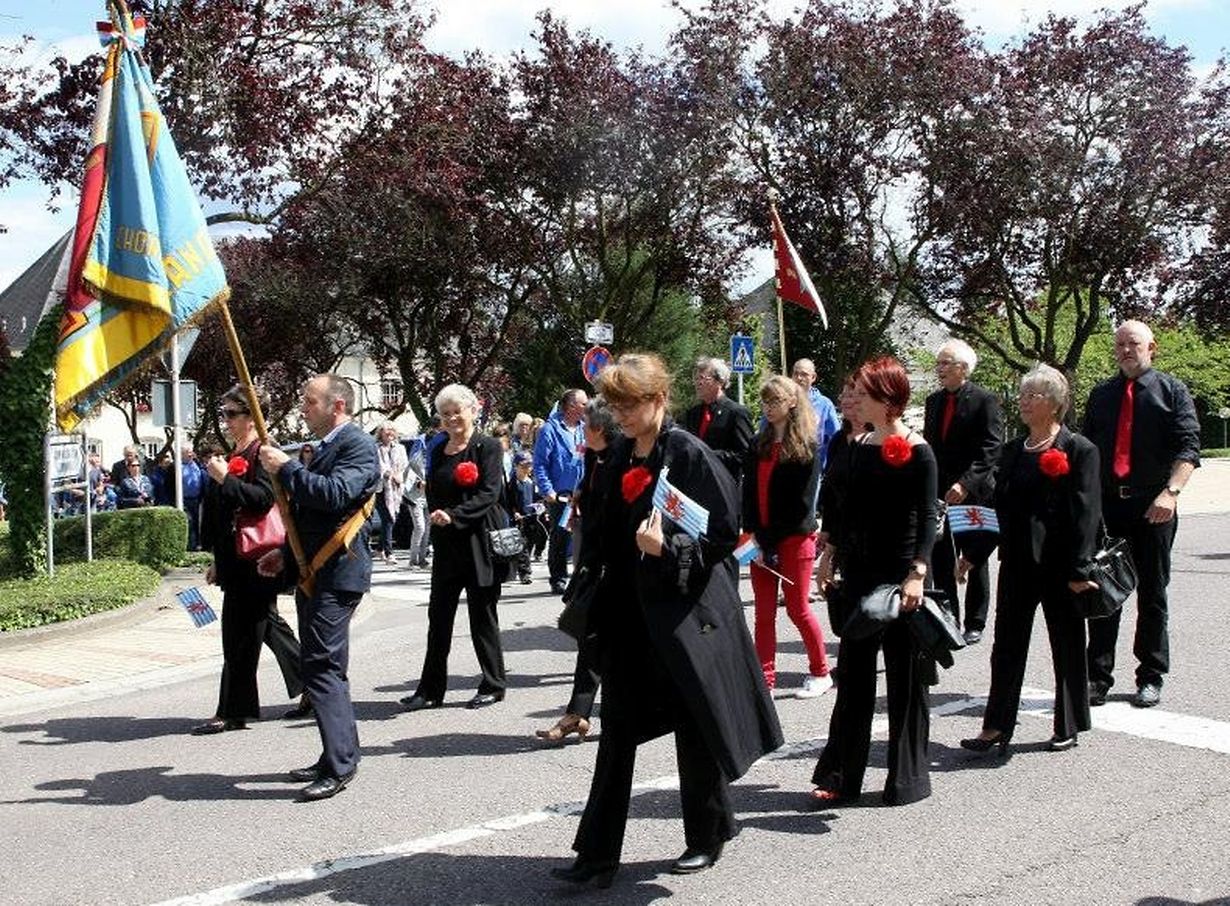 Loscht am "Schëtter Gesank" matzesangen ?
Och bei der "Chorale Schuttrange" mecht sech den demographesche Wandel bemierkbar : Mir kënnen dofir am "Schëtter Gesank" nei Sängerinnen a Sänger mat Spaass un der Musek gudd ebrauchen. Noutekenntnisser sinn nët onbedengt erfuerdert !
Sangen...
… mecht Freed a Frënn, entspaant, inspiréiert, verbënnt, bewegt, mecht fräi …
... ass emotional, lëschteg, groussarteg, schéin ...
D'Sängerinnen an d'Sänger am "Schëtter Gesank" sinn zwëschen 20 an 80 Joer aal a freeën sech ëmmer iwwer nei Mëmberen. Äer Stëmm brauche mir ! Kuckt emol einfach bei ons eran a sangt mat ! Dënschdes vun 20:15 bis 22:30 Auer prouwe mir am "Gesangsbau" , 167 rue Principale zu Mënsbech ( nieft dem Schoulzentrum "An der Dällt").
Envie de chanter à la "Chorale Schuttrange" ?
A la "Chorale Schuttrange" l'évolution démographique se fait remarquer : Pour cette raison de nouveaux chanteurs qui ont plaisir à la musique, nous seraient bien utiles. Des connaissances musicales ne sont pas requises.
Chanter ...
... donne de la joie et crée des amitiés, détend, inspire, unie , fait bouger, libère ... est émotionnel, amusant, magnifique, beau …
Les membres du "Schëtter Gesank" , toutes catégories d'âge confondues, se réjouissent de chaque nouveau membre.
Chaque nouvelle voix est la bienvenue. Participez sans obligation à une répétition comme hôte ! Tous les mardis de 20.15 à 22.30 heures en notre salle de répétition " , 167 rue Principale à Munsbach ( à côté du nouveau centre scolaire "An der Dällt").
Lust mitzusingen im "Schëtter Gesank"?
Auch bei der "Chorale Schuttrange" macht sich der demographische Wandel bemerkbar : Wir können daher neue Sänger mit Spaß an der Musik gut gebrauchen.
Notenkenntnisse sind nicht unbedingt erforderlich.
Singen...
… macht Freu(n)de, entspannt, inspiriert, verbindet, bewegt, befreit …
... ist emotional, lustig, großartig, schön ...
Die Sängerinnen und Sänger im Schëtter Gesank sind zwischen 20 und 80 Jahre alt und freuen sich immer über neue Mitglieder. Ihre Stimme ist uns herzlich willkommen. Schauen Sie doch einfach einmal unverbindlich vorbei und singen Sie als Gast mit uns. Dienstags von 20:15 bis 22:30 Uhr proben wir im "Gesangsbau" , 167 rue Principale in Munsbach ( neben dem Schulzentrum "An der Dällt").
Delighted to join us in the Schuttrange Choir ?
The Schuttrange Choir "Schëtter Gesank" has not been spared the effects of demographic change and so we're looking for new singers to replenish our somewhat dwindling numbers. You don't necessarily have to be able to read music to sing with us.
Singing is
… enjoyable, relaxing, inspiring, liberating and brings people together
… it appeals to the emotions, and it is great fun.
The members of the "Schëtter Gesank" are aged between 20 and 80 and we are always delighted to welcome new members. We'd be very happy if you would add your voice to ours!
If you are interested, just come along and give it a try one evening (no obligations!). We practice on Tuesday evenings from 8.15 – 10.30 pm in our rehearsal room at 167, rue Principale in Munsbach (next to the school campus "An der Dällt").