Let's Dance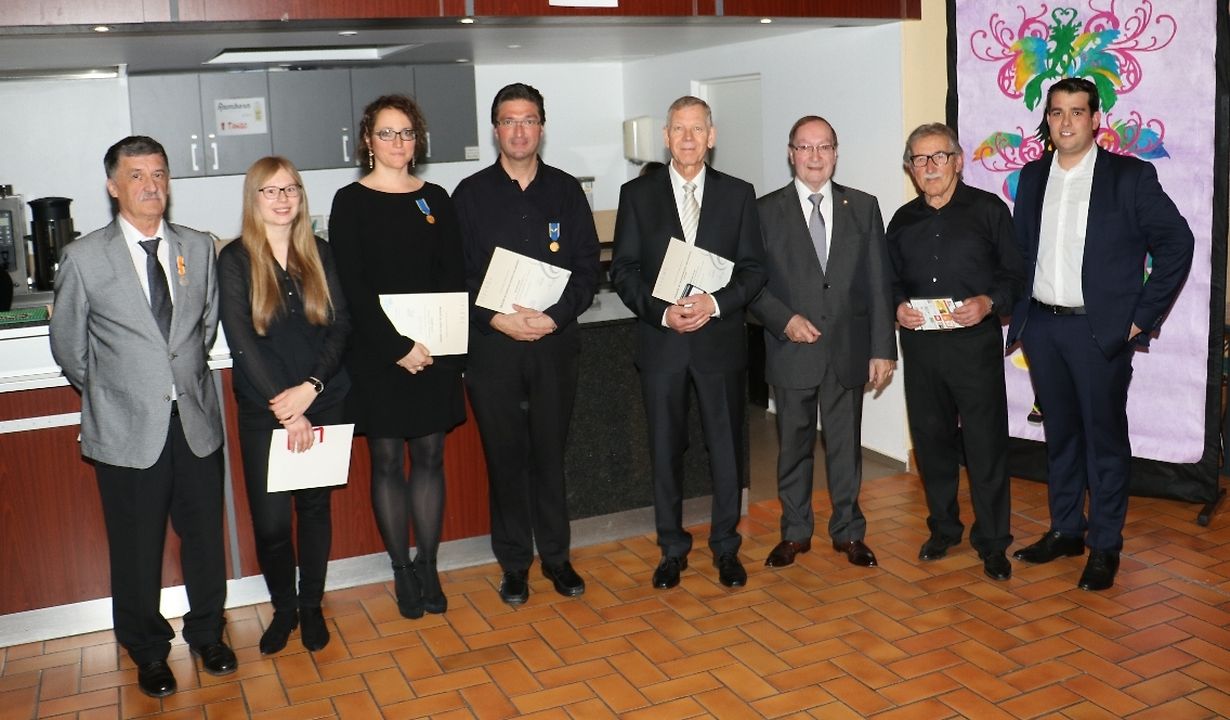 Um Virowend vun Cäciliendag haat d'Hueschterter Musek erem op hire Galaconcert gelueden. Dest Joer war matt "Let's dance" Dänz an Danzmusek um Programm.
Ugefaangen huet d'Jugendmusek mam "Michael Jackson - King of Pop".
Iwwert dem Dimitri Shostakovitch seng "Second Waltz" sinn se beim James Brown säin "I feel good" komm. Domatter huet d'Annick Henquet, waat der Jugendmusek fir d'éischt virstoung, kennen ofschléissen.
Den éischten Deel vum Haaptprogramm huet d'Fanfare selwer mat "La Fiesta" agelaut.
Matt dem Antonin Dvorak sengem "Slaweschen Danz No 8" goung et iwwer zum Peter Tschaikowsky sengem Blummewalzer aus der Nussknacker Suite. Fir dest Steck haat d'Fanfare den Danzgrupp "XPression" agelueden déi de Blummewalzer matt Ballet ennermolt hunn. Mam Ronan Hardiman sengem "Lord of the Dance" ass den éischten Deel op en Enn komm.
No der Paus huet de Präsident Emile Wagner, matt der Ennerstetzung vum Raymond Peters vun der UGDA a Fred Ternes vun der Gemeng Nidderaanwe, Medaillen iwwerreescht. D'Sarah Schmit krut den Insigne fir 5 Joer. Matt engem zousätzleche klenge Cadeau krut d'Carine Godart eng Medaille fir 30 Joer. De Claude Bache gouf fir 40 Joer ausgezeechent an de Carlo Gilbertz krut eng Medaille fir 50 Joer.
Zwou speziell Medaille kruten de Claude Bache fir 30 Joer Keessier an de Claude Hoffmann, Chef vun der Hueschterter Musek, fir 30 Joer am Dengscht vu senger Musek.
Am zweeten Deel, dee weiderhi vum Dan Spogen moderéiert gouf, ass et méi modern weider gaangen. No "Blow your horn" huet d'Fanfare matt engem "Tango argentina" weider gemaach. E Swing-Marsch "Time for Rag" huet de Wee vun Nordamerika bei d'Latäin-amerikanesch Kläng "Oro-Latino" gefouert. Matt "New Sounds in Disco" ass de Concert ausklénge gelooss ginn.
De Publikum war vun de Still opgestaanen an huet hir Musek matt "Standing Ovation" gefeiert.