Let's celebrate - 110. Anniversaire vun der Fanfare Hueschtert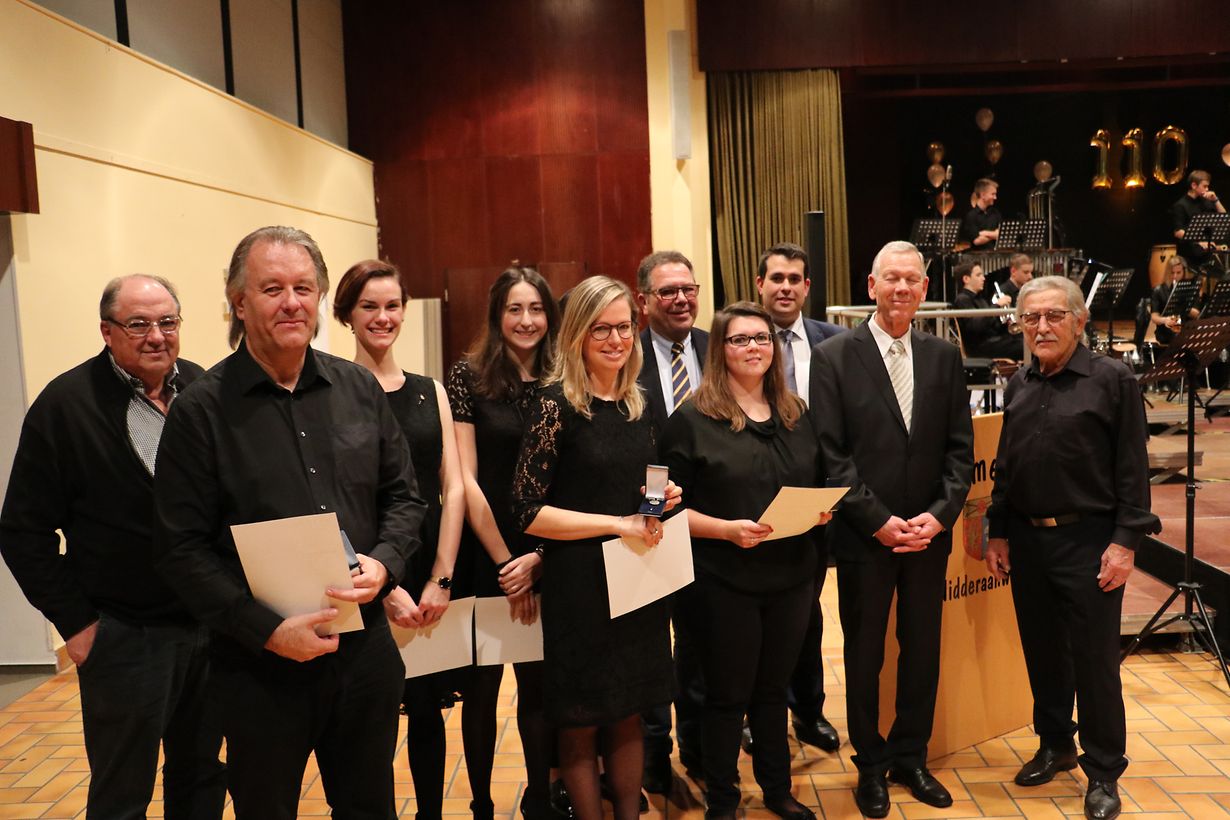 Op Cäciliendag haat d'Hueschterter Musek, matt un der Spetzt dem Chef Claude Hoffmann, an hir Jugendmusek, ennert der Leedung vum Khena van der Schilden, fir hiren 110. Gebuertsdag invitéiert. Ganz dem Motto no goufen dann och nemme Komponisten opgefouert déi an desem Joer e ronne Gebuertsdaag feieren. Ugefaangen huet d'Jugendmusek matt "We are the World" vum Michael Jackson, "Like a Prayer" vum Madonna a "When Summer takes flight" vum Robert Smith.
Duerno huet d'Fanfare matt "New York Overture" vum Kees Vlak an "The Symphonic Gershwin" vum George Gershwin ugefaangen. Dem Franz Briegel säi Mitternachtsblues gouf vum Solist Alain Schartz op der Trompette offréiert. Matt der "West Side Story" vum Leonard Bernstein goung et an d'Paus. No der Paus goufen d'Lena Grethen, d'Laura Storck, d'Khena van der Schilden an d'Aline Zirnheld fir 5 Joer ausgezeechent. D'Samantha Schartz an d'Maureen Wiwinius kruten eng Medaille fir 20 Joer. Eng Medaille fir 40 Joer konnt de Jean-Claude Limpach aus den Hänn vum Romain Henrion, Vertrieder vun der UGDA, Fred Ternes, Schäffe vun der Gemeng Nidderaanwen a Mulles Wagner, Präsident vun der Musek, entgéint huelen. Den 3. Deel huet d'Joelle Kirsch mam "Moment for Morricone" ugekennegt. Duerno huet d'Anna Felke matt "My heart will go on" vum Celine Dion a "Skyfall" vum Adele d'Musek gesanglech ennerstetzt. Mam "Frank Sinatra Hits Medley" an "A tribute to Michael Jackson" gouf de Concert ofgeschloss. Nom obligatoresche Bis "Puttin' on the Ritz" vum Irving Berlin gouf de Gebuertsdaagskuch bruecht, den d'Fanfare hiren Nolauschterer offréiert huet. Mam "Happy Birthday" huet et d'Leit dann net méi op de Still gehalen.