Ensemble Vocal VIVACE unterstützt " Îles aux Clowns" mit 2000 €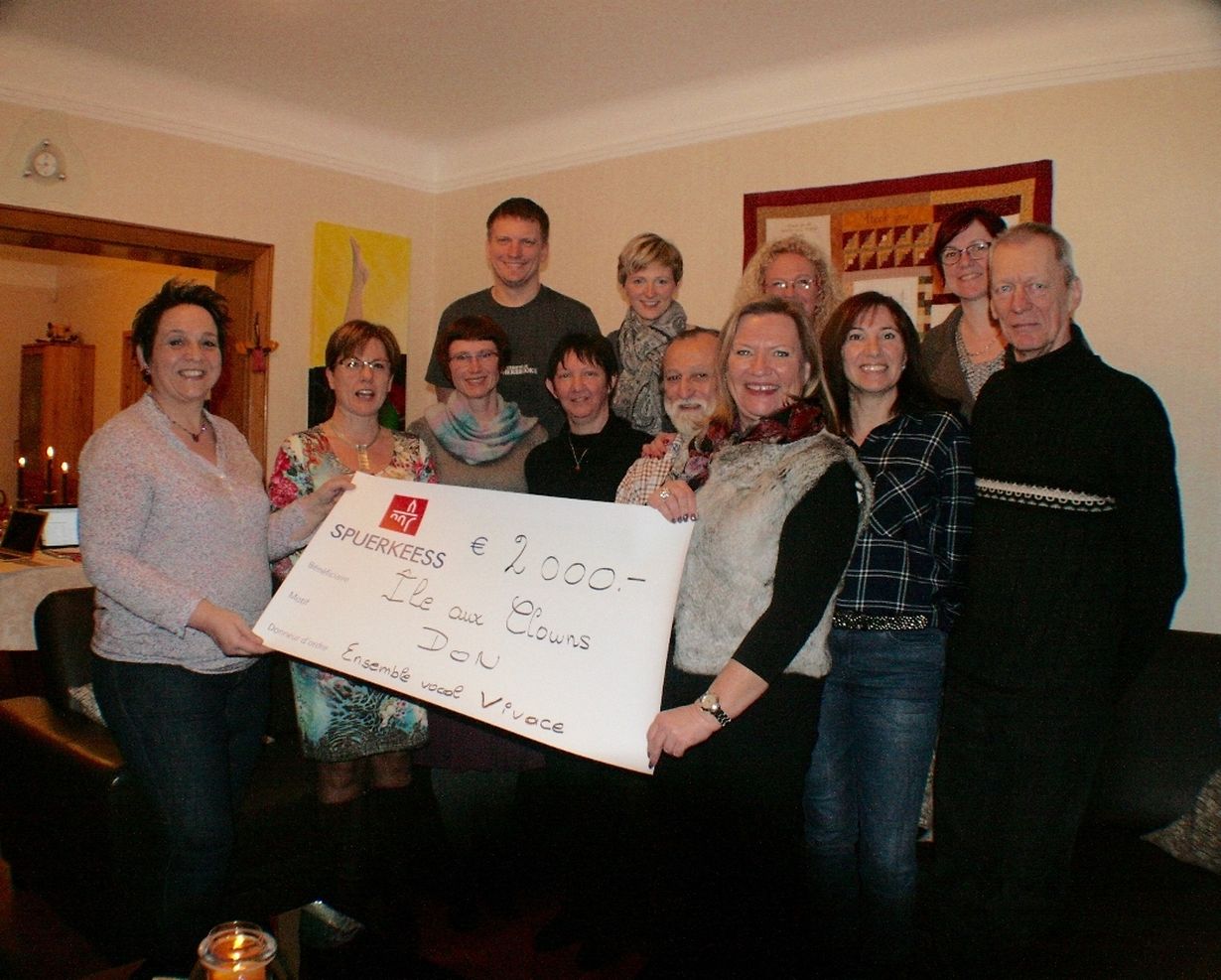 Ensemble Vocal VIVACE – Charity 2015
Unser Jubiläumsjahr 2015 haben wir mit einer Schecküberreichung an Îles aux Clowns abgerundet. Am 24. Februar haben wir Frau Joëlle GOLINSKI, Koordinatorin der Îles aux Clowns, einen Scheck über die Summe von 2'000,- € aushändigen können. Dies stellt die gesamten Einnahmen unseres jährlichen 'Songs for Charity'-Konzertes am vergangenen 20. Dezember dar.
Höhepunkt unseres silbernen Jubiläumsjahres war unser Best of VIVACE - Konzert im Kammermusiksaal der Philharmonie am 9. Mai 2015. Vor ausverkauftem Saal haben wir ein zweieinhalb stündiges abwechslungsreiches Programm präsentiert. Im Anschluss an unser 'Best of' kam ein weiterer Höhepunkt : unsere Konzertreise nach Krems (Wachau, Niederösterreich). In einer Woche haben wir bei 4 Konzerten unser Publikum begeistert.
2016 werden wir wieder unsere Fans mit mehreren Konzerten belohnen. Am 27. Mai findet unser jährliches 'Bridge of Songs'-Konzert in der Kirche Sacré Coeur (Luxemburg/Gare) statt. Zusammen mit dem österreichischen Chor 'Vokal Total' aus Trumau präsentieren wir einen einzigartigen Liederabend. Wir hoffen, auch Sie an diesem Abend begrüssen zu dürfen.