FC Monnerich - Avenir Beggen 3-1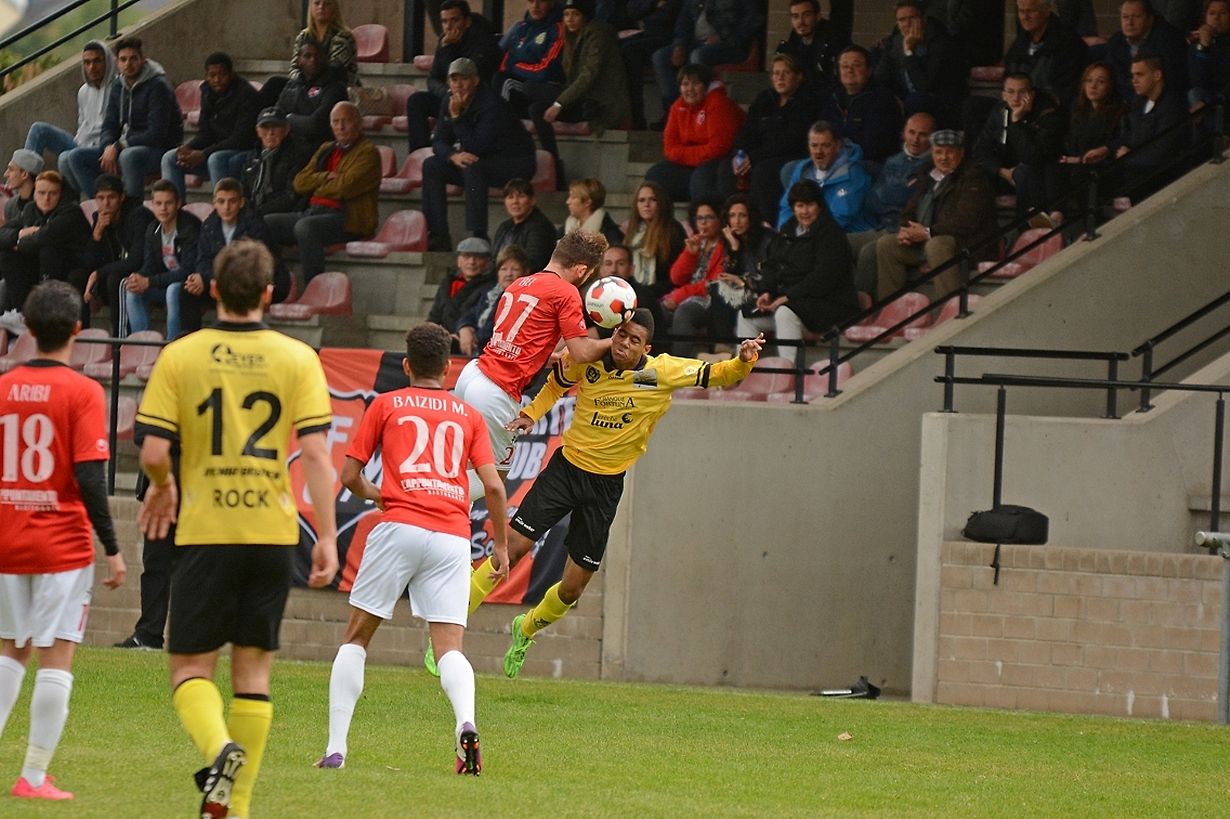 Nach einer enttäuschenden ersten Hälfte, in der kaum ein Beggener Spieler Normalform zeigte, ließ der FC Avenir Monnerich gewähren, die sich dafür mit drei Toren bedankten.
Das 1-0 fiel bereits nach 8' als ein Monnericher Spieler ungehindert bis zur Grundlinie vordringen konnte, den ball zurück auf Baizidi legte, der keine Mühe hatte aus kurzer Distanz einzuschieben. Beggen half auch beim 2-0, als ein Mißverständnis zwischen Welter und Pina Cruz in einem Ballverlust an Aribi endete, der ins leere Tor einschob (22.'). Nach einer halben Stunde war es dann wieder Baizidi, der einen Konter zum 3-0 erfolgreich abschloß.
Slight improvements were only to be seen when coach Santos made a few tactical changes, still during the first half. These changes had more impact during the second half.
Ein wenig verbessert schien die Beggener Elf nachdem Trainer Santos noch während der 1.Hälfte ein paar taktische Änderungen vornahm. Diese sollten sich dann aber vor allem während der 2.Halbzeit bemerkbar machen.
Zwar hatten die Gastgeber die erste Chance nach der Pause, aber Beggen fing endlich an Fußball zu spielen. Monnerich schien Beggen jetzt auf die leichte Schulter zu nehmen. Nachdem der Schiedsrichter ein klares Foul an Ntabala im Strafraum nicht ahndete, war es der gleiche Beggener Stürmer, der sich in der 63,' gleich gegen ein paar Verteidiger durchsetzte und trocken zum 1-3 einschoß. Als dann gegen Ende des Spiels Monnerich einige Kontersituationen nicht nutzte und ein Gewaltschuß von Simoes aus der zweiten Reihe nur Zentimeter links neben den Pfosten ging, war sogar ein Unentschieden vorstellbar, aber natürlich nicht verdient.
So blieb es dann beim 3-1 für Monnerich. Beggen darf jetzt den Kopf nicht in den Sand stecken und muss konzentriert weiterarbeiten.
Noch eine Randnotiz: Bei Beggen lief zum ersten Mal Alvaro Pires aus, ein Spieler dessen Lizenz schon seit Monaten beantragt war und der jetzt endlich die Freigabe aus Italien erhielt, wo er vorher gespielt hatte.
Beggener Aufstellung: Pina Cruz (TW), Rocha (60.' d'Exelle), Welter, Rock, Feller, Simoes (C), Schroeder, Pires, Demeyer, Ntabala (63.', 3-1, 75.' Krings), Runser
Foto: © www.paulmedia.lu
//EN: http://www.wichtelweb.net/en/component/k2/item/564-fc-mondercange-3-1-avenir-beggen
//LB: http://www.wichtelweb.net/de/component/k2/item/563-fc-monnerech-avenir-beggen-3-1