LUXEMBOURG PHILHARMONIA im Cube521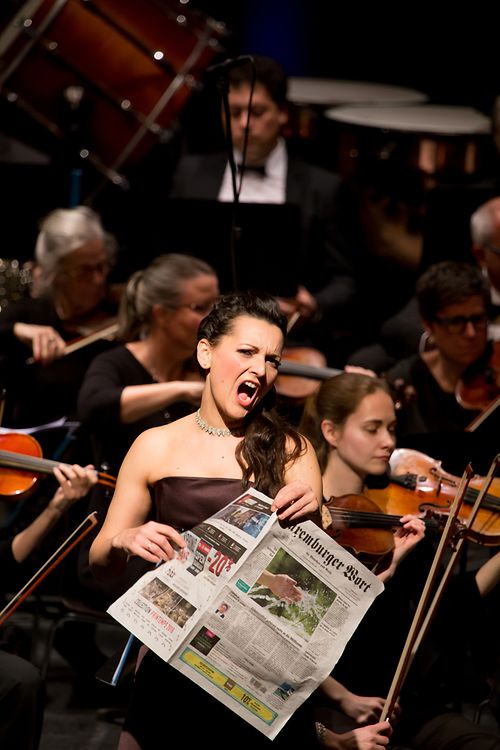 Opera Highlights. Direktion: Martin Elmquist. Solistin: Marta Stefanik.
Das Orchester, das 2014 sein 35-jähriges Jubiläum feierte, setzt sich aus ungefähr 90 MusikerInnen zusammen. Das Repertoire umfasst die großen, klassischen Werke von Beethoven bis Schostakowitsch und reicht hin zu Opern- und Operettenkonzerten. Luxembourg Philharmonia tritt regelmässig in den großen Konzertsälen Luxemburgs sowie auch im Ausland auf. Das Orchester bietet zudem jungen Solisten die Möglichkeit, mit einem symphonischen Orchester, vor einem großem Publikum aufzutreten.
Marta Stefanik
Die ungarische Sopranistin Marta Stefanik studierte Gesang am Bela Bartok Music Institute und erhielt ein Master im Bereich "Lied und Oratorium" der Universität Debrecen. Sie ist Mitglied internationaler Chöre (Hungarian State Opera Choir, CantuS CorvinuS Vocal Ensemble) und erhielt verschiedene Preise wie u.a. den "International Operetta Competition Special Prize (Komárno, 2004)", den "Choral Art title of the Year (2007, Debrecen)", den "Season young singer award (Debrecen, 2010)" und den "Critics' Award" (Debrecen, 2013).