«Moien-Welcome-Namasté»: Le bulletin d'information 4/2015 d'«Aide à l'Enfance de l'Inde» est là!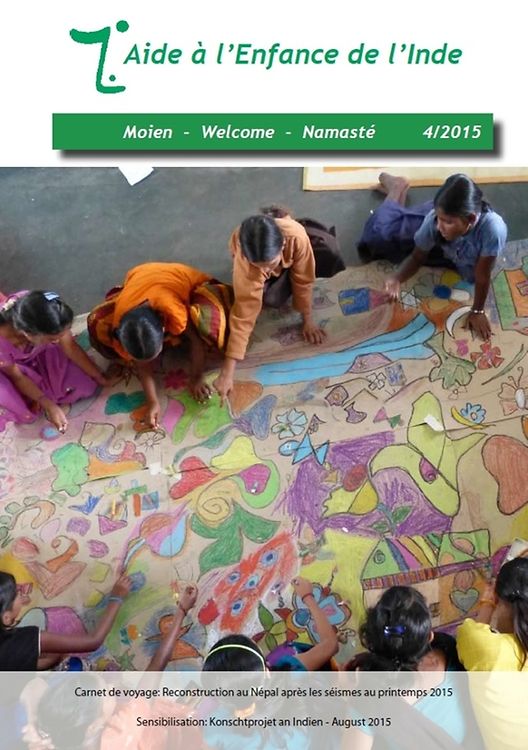 Contenu du bulletin:

- Editorial: "Nous sommes la première génération dans l'histoire de l'humanité qui puisse venir à bout de l'extrême pauvreté. Et la dernière qui puisse arrêter le changement climatique." Ban Ki-moon, secrétaire général des Nations Unies
- News from the field: Steht Nepal kurz vor einer humanitären Krise?
- Carnet de voyage: Efforts de reconstruction et de réhabilitation au Népal après les séismes de printemps 2015 - Visite au village de Sarasyunkharka (district de Kavre, Népal) - 30 octobre 2015
- Sensibilisation: Besuch indischer Jugendlicher in Luxemburg - Persönliche Erfahrungen von 6 luxemburgischen Teilnehmerinnen
- Sensibilisation: Konschtprojet an Indien - August 2015
- Appel aux dons: Aidez-nous à mettre fin aux mariages d'enfants en Inde!
- AEI News: Notre partenaire WOREC à l'honneur aux Nations Unies
- AEI News: Save the date - Indesche Basar vun Aide à l'Enfance de l'Inde (AEI) den 28. Februar 2016

Vous pouvez commander ce bulletin d'information gratuit par téléphone (+352 47 21 55) ou le télécharger sur www.aei.lu.