Cecilie-Concert 2017 vun der Harmonie Ste Cécile Kayl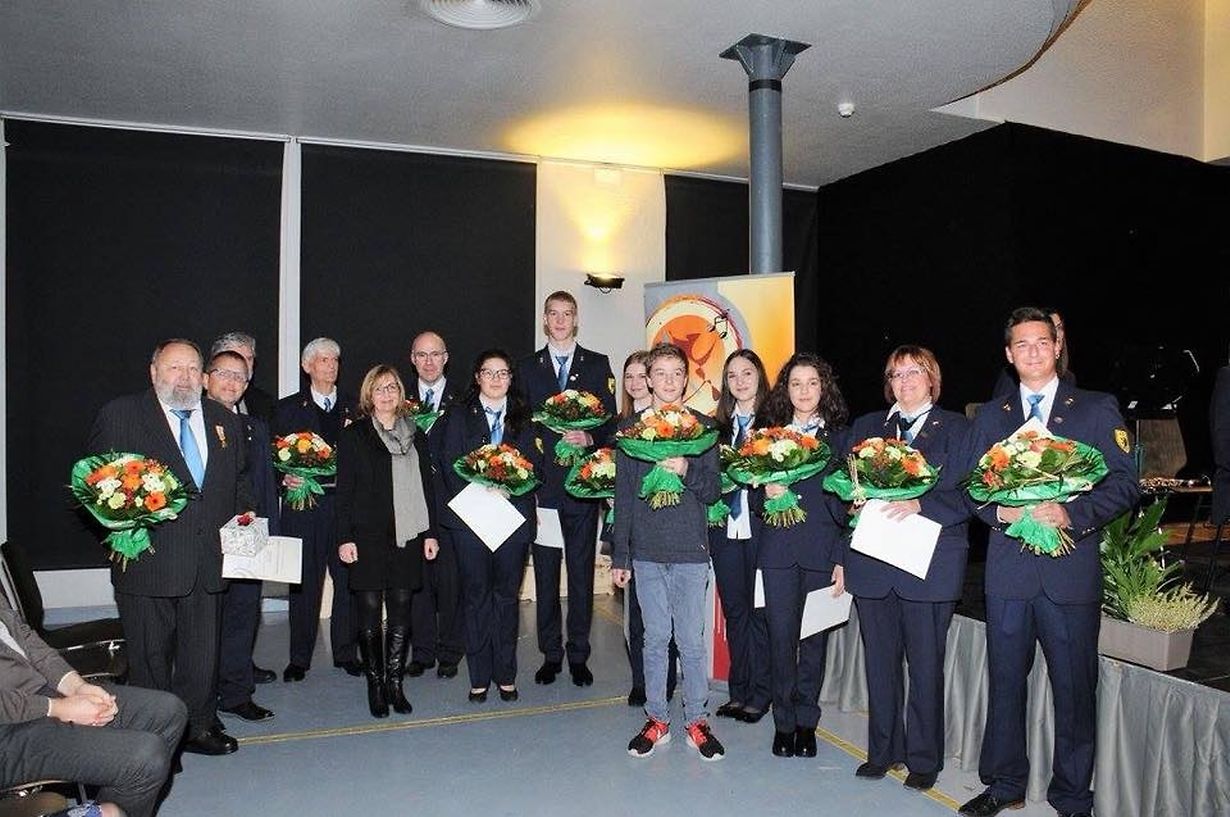 Ënnert dem Thema "Vu Kinneken, Helden a Legenden" huet d'Käler Musek den 11. November 2017 um 20.00 Auer op hire Cecilie-Concert an de Centre Culturel Schungfabrik zu Téiteng invitéiert.
Ugefaangen hat de Concert mat der Ouverture aus "Orphée aux enfers" vum Jacques Offenbach. Dono huet d'Käler Musek d'Nolauschterer mat an d'Geschicht vun Zolwer geholl mat "The Legend of Celobrium" vum Philip Sparke. En éischten Héichpunkt vum Owend war d'Uropféierung vum Wierk "Ashoka" aus der Fieder vum Sandro Bucciarelli. Um Enn vum éischten Deel stung dann de Solist vum Owend, de Uilson Castro um Euphonium am Mëttelpunkt, mat dem Marc Treinen sengem Arrangement vun de Variatiounen op "Rule Britannia" vum John Hartmann.
Niewt de Wierker "Melusina", "Robin Hood – Prince of Thieves" a "Utopia, konnt d'Publikum am zweeten Deel vum Concert nach eemol déi impressionant Musikalitéit vum Solist Uilson Castro bewonneren, mat senger Interpretatioun vu "The Green Hill" vum Bert Appermont.
Traditionell ass de Cécilie-Concert awer och deen Owend op deem déi laangjäreg Museker aus dem Orchester fir hir Verdingschter geéiert ginn. An der Präsenz vum Vertrieder vun der UGDA Romain Ries an de Schäffen Viviane Schenten-Petry a Marcel Humbert, huet de Präsident Jean-Pierre Wilwert déi verschidden Insignen a Medaillen iwwerreecht. Geéiert gi sinn : fir 5 Joer UGDA, de Pol Thiel, fir 10 Joer, d'Alexandra Cornaro, d'Lea Ferreira, d'Tilly Donven-Schenten, d'Magali Sturm, de Pir Thiel an d'Caroline Thill. De Jemp Marx, de Mirko Migliosi an de Steve Schneider si fir 20 Joer am Dingscht vun der UGDA ausgezeechent ginn. Mat engem Kado vun der Musek an der Medaille fir 60 Joer UGDA hunn de Marcel Humbert a René Sauveur fir déi laang Joren an hirem Veräin Merci gesot kritt.
D'Harmonie Ste Cécile stung ënnert der Direktioun vum Sandro Bucciarelli. Erzieler fir d'So vum Melusina war de Marc Trierweiler an duerch de Programm gefouert hunn d'Martine Marx an de Marc Gillet.