10 000 € pour le four professionnel de la Stëmm vun der Strooss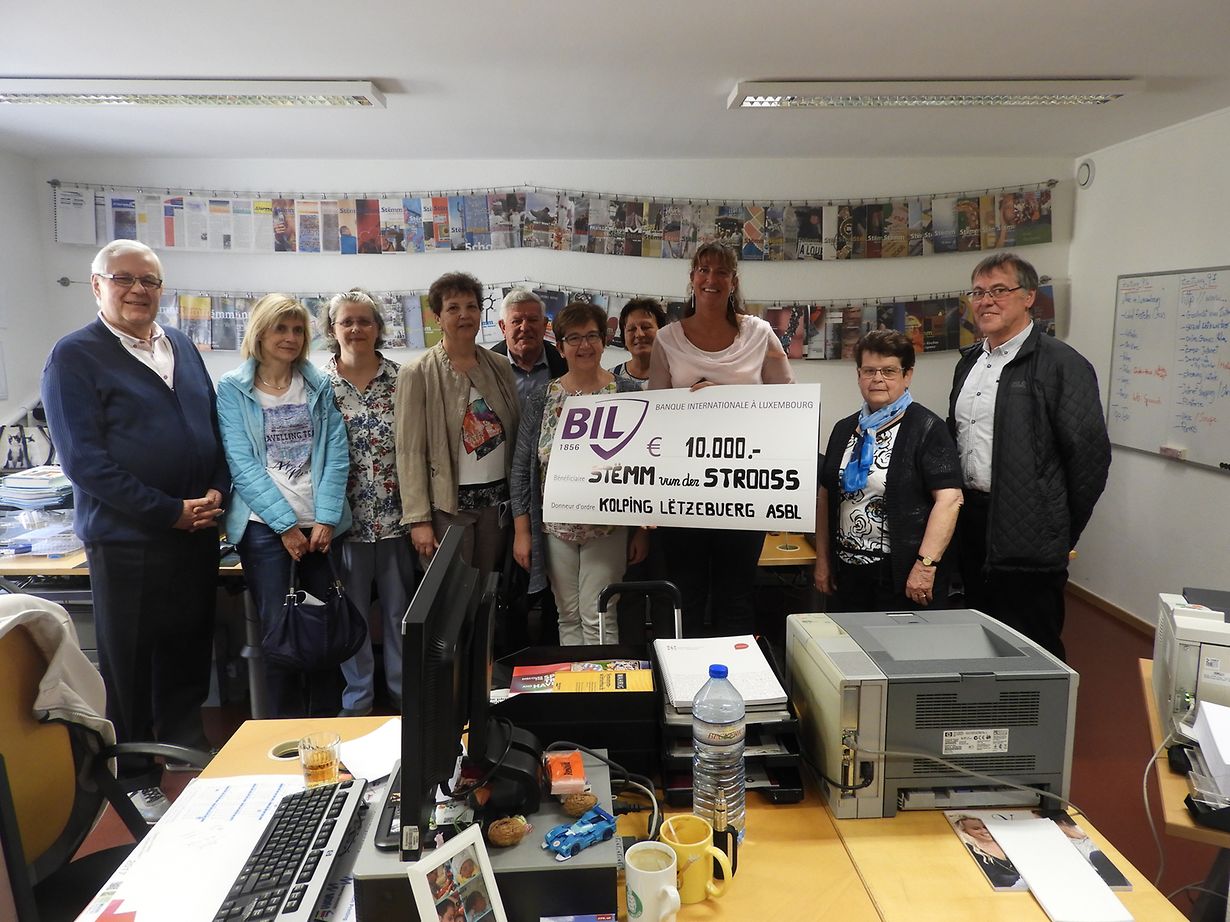 Communiqué : 10 000 € pour le four professionnel de la Stëmm vun der Strooss
C'est à l'initiative de la Présidente, Marie-Jeanne Brauch, que 9 représentants de l'association Kolping se sont intéressés aux diverses activités de la Stëmm vun der Strooss. Lors de leur visite le 19 avril, les membres de Kolping ONG ont remis un chèque d'une valeur de 10.000 € à la directrice Alexandra Oxacelay qui a précisé que ce don sera utilisé pour financer une partie du nouveau four professionnel destiné à la cuisine du restaurant social situé 7, rue de la Fonderie. La visite s'est terminée par un déjeuner convivial auquel a assisté le Vice-président de la Stëmm vun der Strooss, André Theisen.
Kolping est une ONG dont la plupart des projets sont cofinancés par le Ministère de la Coopération au Développement. Ses actions sont essentiellement portées sur les domaines de la formation professionnelle du travail, de l'alphabétisation, de la santé, de la famille et de l'agriculture. Les revenus des collectes de vêtements au Luxembourg permettent à l'ONG de financer 2/3 de leurs projets au Luxembourg et 1/3 est destiné à leurs partenaires étrangers.
Press release: 10 000 € for the professional oven of the Stëmm vun der Strooss
On President's, Marie-Jeanne Brauch initiative, 9 representatives from the Kolping Organisation have shown their interest to the various activities of Stëmm vun der Strooss. During their visit the members of Kolping ONG have presented a cheque of 10.000€ to the director Alexandra Oxacelay. Alexandra Oxacelay explained that the cheque would be used to finance a part of the new professional oven of the kitchen of the social restaurant situated at 7 rue de la Fonderie. The visit ended with a lunch in the presence of the vice-president of the Stëmm vun der Strooss, André Theisen.
Kolping is a NGO whose majority of projects are cofinanced by the Ministère de la Coopération au Développement. Their actions mainly focus on professional training, literacy, health, family and agriculture. The revenues generated by the collection of clothes allow the NGO to finance 2/3 of their projects in Luxemburg and 1/3 is aimed to their partners abroad.