Taekwondo Weltmeister Mamedy Doucara zu Gast in Esch-sur-Alzette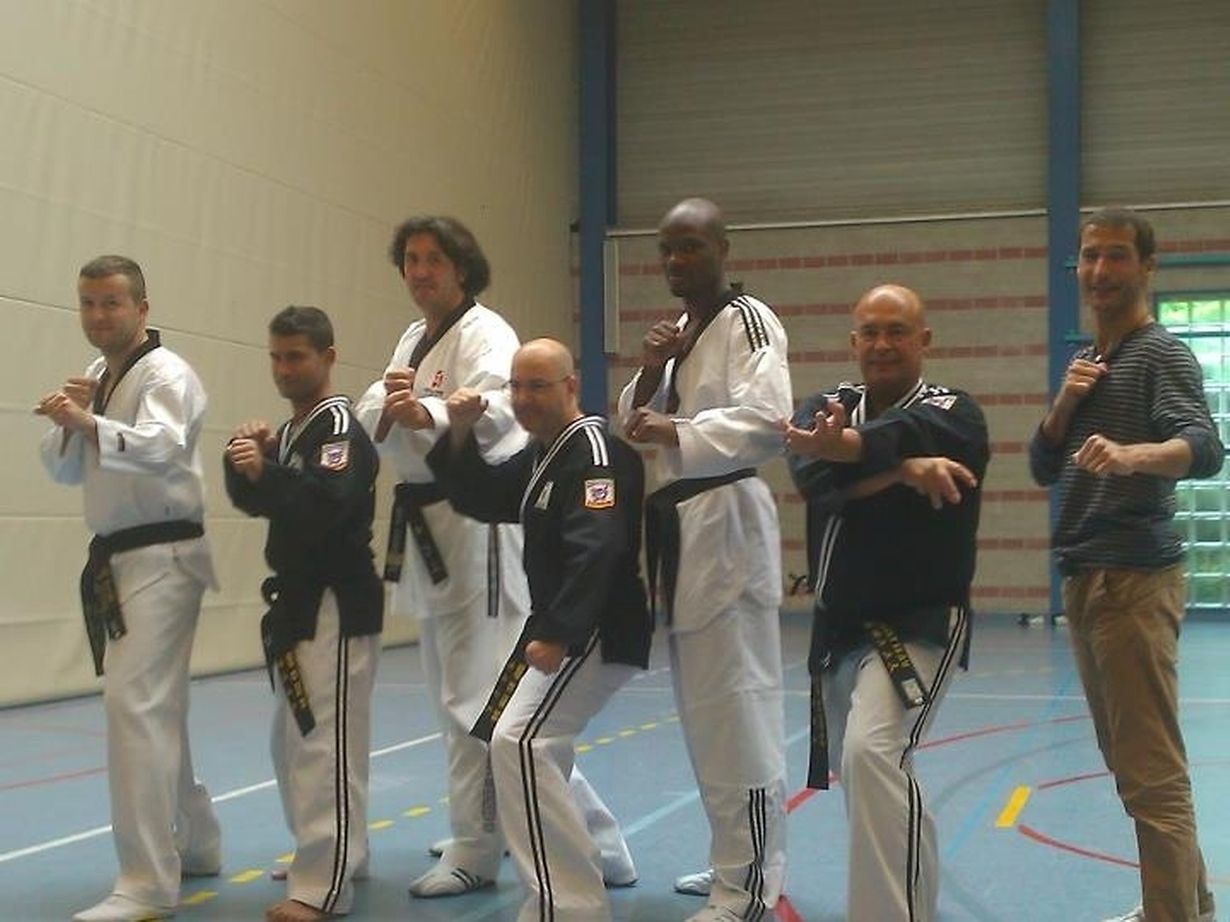 23.09.2012 Esch-sur-Alzette,
Der Taekwondo Verein Team-Spirit Esch feierte seinen 5 Geburtstag und veranstaltete einen großen internationalen Lehrgang am Sonntag im Centre Omnisport Henry Schmitz.
Das Verein kann zu diesem Anlass gleich mehrere Referenten begrüßen, nämlich den Weltmeister und 9x Meister aus Frankreich Mamedy Doucara und den 8xfachen Schweizer Meister Nuno Damaso als Hauptfavoriten .
Romain Dicken (Lux) member of Hall of Fame sowie Christoph Vella (Malta) spezialist im Bereich Poomse (Formenlauf) und Hapkimudo sowie Alf Laurent (Lux) Ex-Mitglied des Nationalteam Luxemburg und Organisator vervollständigen die Referentenlisete und leiteten das Training.
Es nahmen zwischen 40-50 Taekwondoka aus ganz Luxemburg, Deutschland, Frankreich und der Schweiz teil.
Tagesablauf: Begrüssung und Rede von der Bürgermeisterin ab 10:15.
Erste Trainingseinheit ab 10:30, es wurden die verschiedenen Disziplinen wie Wettkampf, Formenlauf, Selbstverteidigung, Hapkido und Yoga angeboten.
Selbstverständlich waren Zuschauer den ganzen Tag über willkommen und für Verpflegung wurde auch gesorgt.
Der Verein hat zurzeit über 35 Mitglieder. Der Sport hat mittlerweile seinen festen Platz gefunden und erfreut sich immer größerer Beliebheit.
Wir legen Wert auf die Tatsache, dass Taekwondo kein Haudrauf-Sport ist , sondern gleichermaßen Körper und Geist , Koordination, Kraft und Ausdauer trainiert – und das bis ins hohe Alter. Es ist nie zu spät um zu beginnen. Jeder kann im Rahmen seiner Möglichkeiten Taekwondo betreiben. Ich bezeichne es auch noch als " Schule fürs Leben" erklärt Alf Laurent.
Infos : Alf Laurent lalf@pt.lu tel:691 84 19 16
P.S Der Lehrgang wird in den nächsten Tagen auf www.simba.lu übertragen sowie auch über Telé vun der Post Sender 976
Danke auch an den Sponsoren : Clausel, M-Club, Restaurant Gubbio und Café Pitcher!