Marmen Quartet: Konzert im Escher Conservatoire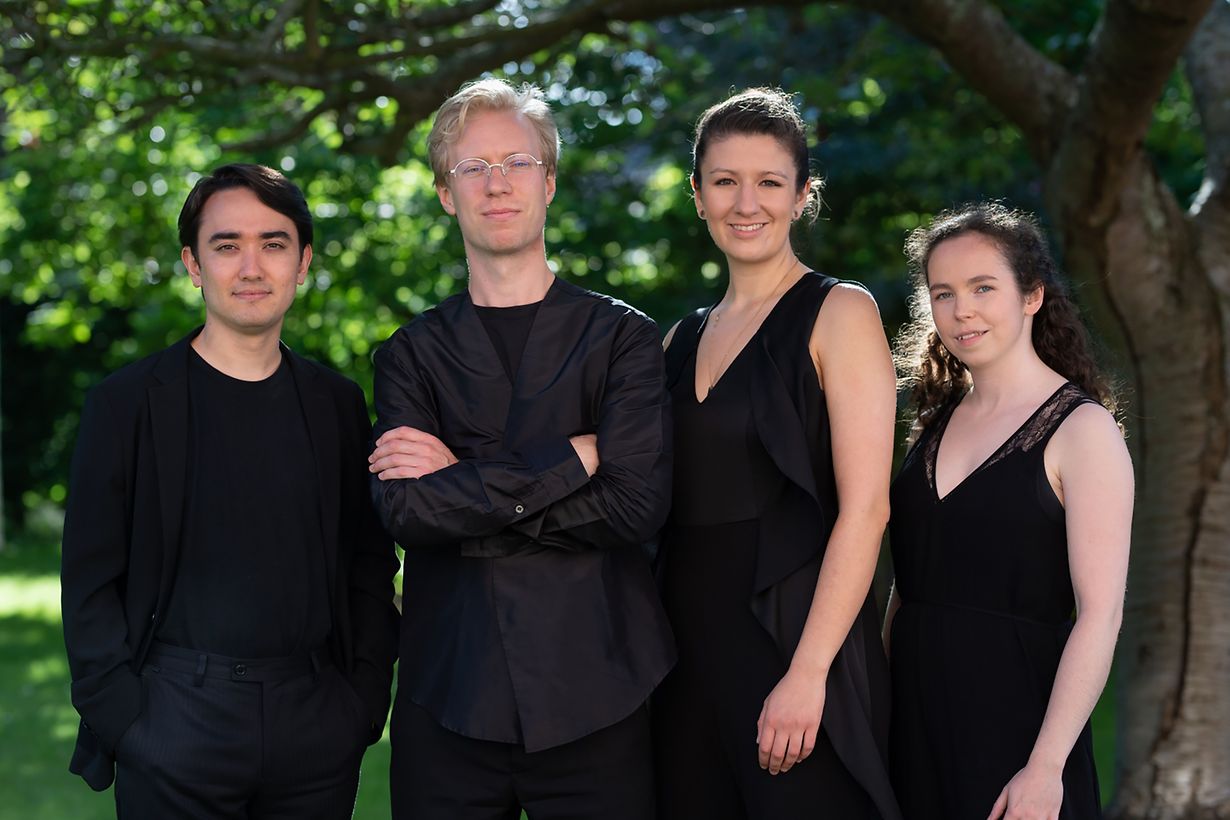 Als Gewinner der Bordeaux International String Quartet Competition 2019 tut sich das 2013 am Royal College of Music in London gegründete Marmen Quartet als einer der interessantesten jungen Vertreter der internationalen Kammermusikszene hervor.
Am 23. Oktober bietet sich um 20 Uhr dem interessierten Publikum die Möglichkeit, die Darbietung dieser ausgezeichneten Musiker im Auditorium des Conservatoire de Musique de la Ville d'Esch-sur-Alzette erleben zu können. Zuvor, um19 Uhr gibt es eine
Einführung und Erläuterungen zum Programm mit Jean Halsdorf, Professor am Escher Konservatorium
Das Marmen Quartet wurde mit dem 1. Preis des Internationalen Streichquartettwettbewerbs in Banff 2019 ausgezeichnet (geteilter erster Preis mit dem Viano String Quartet). Außerdem gewann das Quartett die Royal Over-Seas League Competition 2018 und den zweiten Preis sowie den Sonderpreis für die beste Interpretation eines zeitgenössischen Werks (Four Quarters von Thomas Adès) bei der 8. International Joseph Joachim Chamber Music Competition.
Das Marmen Quartet erhielt bereits mehrere Auszeichnungen. Es ist unter anderem sowohl Young Quartet in Residence am Wiltshire Music Centre wie auch derzeitiger Stipendiat der Guildhall School of Music String Quartet Fellowship.
Das Quartett konzertierte bereits bei diversen großen europäischen Radiosendern wie dem Deutschlandfunk Kultur, dem Swedish Radio und dem BBC Radio 3 sowie bei bedeutenden Festivals wie etwa bei den Sommerlichen Musiktagen Hitzacker, dem Kammermusikfest Lockenhaus, dem Edinburgh Festival Fringe, dem North Norfolk Music Festival und dem Lake District Summer Music Festival.
Für die Saison 2019/2020 erfolgten Einladungen unter anderem mit einem Beethoven Zyklus nach Schweden, auf eine Kreuzfahrt nach Norwegen, eine Tournee nach Japan sowie zu Oktettkonzerten mit dem Doric String Quartet. Außerdem gastierte das Marmen Quartet 2020 als Teil des 1. Preises des Internationalen Streichquartettwettbewerbs in Banff in zahlreichen europäischen Städten, wie etwa in Amsterdam, Basel, Meran, Nürnberg und Zürich. Für die Saison 2021/2022 sind zum Beispiel Konzerte im Boulez Saal, der Berliner Philharmonie, der Alten Oper Frankfurt und dem Lucerne Festival vorgesehen.
Hier das genaue Programm:
19.00 Uhr:
Einführung und Erläuterungen zum Programm mit Jean Halsdorf, Professor am Escher Konservatorium
20.00 Uhr:
Beginn des Konzerts
Joseph Haydn
- Streichquartett B-Dur op. 64 Nr. 3 Hob.III:67
Vivace assai – Adagio - Menuett. Allegretto - Allegro con spirito
György Ligeti
- Streichquartett Nr. 1 - Metamorphoses nocturnes 1953/54
(in einem Satz ohne Bezeichnung)
Ludwig van Beethoven
- Streichquartett Nr. 14 cis-Moll op. 131
Adagio ma non troppo e molto espressivo - Allegro molto vivace - Allegro moderato. Adagio
Andante ma non troppo et molto cantabile – Presto - Adagio quasi un poco Andante - Allegro
Reservierung:
https://www.ticket-regional.lu/events_info.php?eventID=180515&fbclid=IwAR3Vw3aSoNGsZDRzosUp9LQnw7VoN_hUC2x9wkk1GEHgVqqx50BE3eRxz40
Oder:
Tel: 27 54 97 25
E-mail: events.conservatoire@villeesch.lu
E-mail: reservation.conservatoire@villeesch.lu
Internet: http://conservatoire.esch.lu