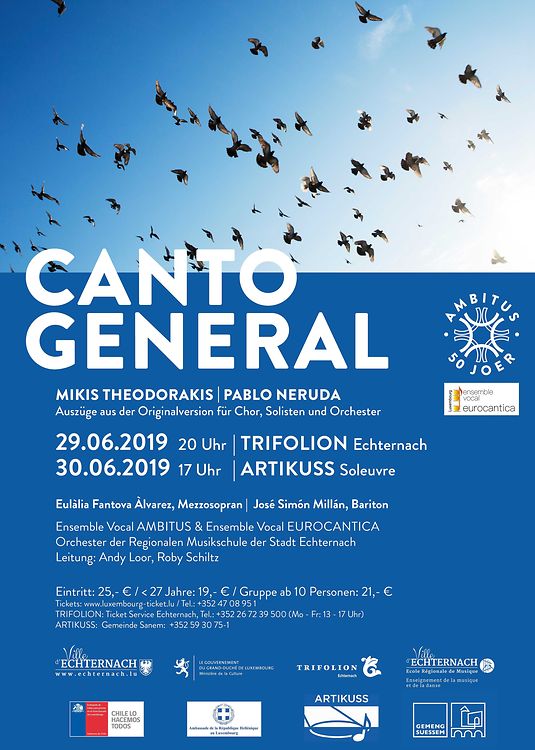 CANTO GENERAL
Mikis Theodorakis / Pablo Neruda
Der Canto General ist ein Oratorium für zwei Solostimmen, gemischten Chor und Orchester des griechischen Komponisten Mikis Theodorakis auf Texte aus dem Gedichtzyklus Canto General (Der große Gesang) des chilenischen Dichters Pablo Neruda. Er beschreibt die Erschaffung Lateinamerikas, der Flora und Fauna, das Auftreten des Menschen, die Eroberung durch die Konquistadoren, die anschließenden Befreiungskämpfe und die Hoffnung auf Unabhängigkeit.
Le Canto General est un oratorio pour deux voix solistes, choeur mixte et orchestre du compositeur grec Mikis Theodorakis, sur des textes du Canto general (Le grand chant) du poète chilien Pablo Neruda. Il décrit la création de l'Amérique Latine, la flore et la faune, l'apparition de l'homme, la conquête par les conquistadors, ensuite les luttes pour la libération et l'espoir de l'indépendance.

"Canto General" is an oratorio for two solo voices, mixed choir and orchestra by the Greek composer Mikis Theodorakis, setting texts from the "Canto General" (The Great Song) by Chilean poet Pablo Neruda. It describes the creation of Latin America and of its flora and fauna, the appearance of humans, the Spanish conquest, the subsequent liberation struggles and the yearning for independence.
Entrée: 25,00 € / <27J. 19,00 € / Gruppe ab 10 Personen: 21 €
Réservation:
www.luxembourgticket.lu / T. +352 47 08 951
Ticket Service Echternach: T. +352 26 72 39 500 (13.00h - 17.00 h)