Autism at work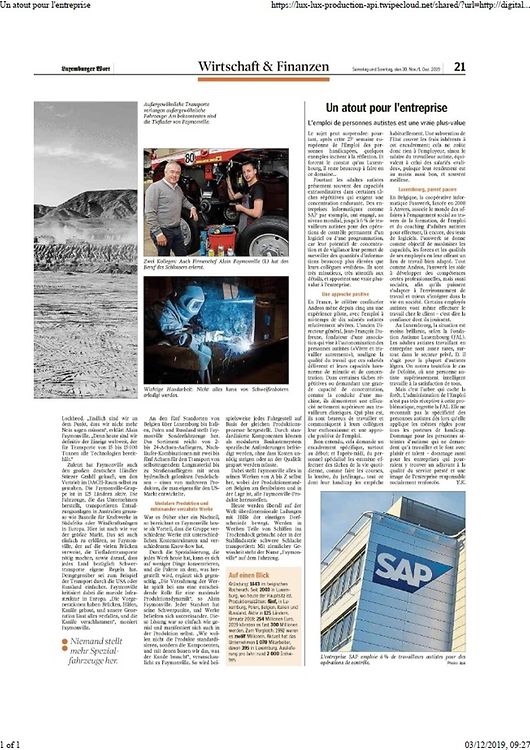 Early this year, FAL contacted a couple of international operating companies that have activities in Luxembourg: Microsoft, SAP, Ernst&Young, DXC Technologies and Vodafone. Those giants launched specific initiatives to utilise the strengths of those with higher-functioning autism and including them in your work force. Microsoft launched "Microsoft Hiring Program", SAP and Ernst&Young created "Autism at Work", DXC Technologies is member of "Autism @ Work Employee Roundtable", and got recognition for its recent support and recruitment of people on the autism spectrum.
In a letter/email FAL informed the contact persons about its visions, mission and services. In the letters FAL highlighted to support people with an autism spectrum disorder as they navigate their adult life, especially to find an appropriate and decent job. At the end the texts said: "But most importantly, you would be joining us in championing the interests and needed support for those on the autism spectrum."
The result of that action: a big deception. No one showed interest in those initiatives that the parent company launched, one or two weren't even informed that such initiatives were launched.
And the deception is now even bigger, as the article says that ADEM in not very receptive and responsive towards FAL's commission "support and recruitment of people on the autism spectrum".
Everyone knows the country's shared signature : Luxembourg – let's make it happen. The symbol X stands for what makes Luxembourg such a bad example for supporting people on the autism spectrum to find a job: X as you find this letter in eXclusion.