"Music from Movies" mit der Fanfare Bourglinster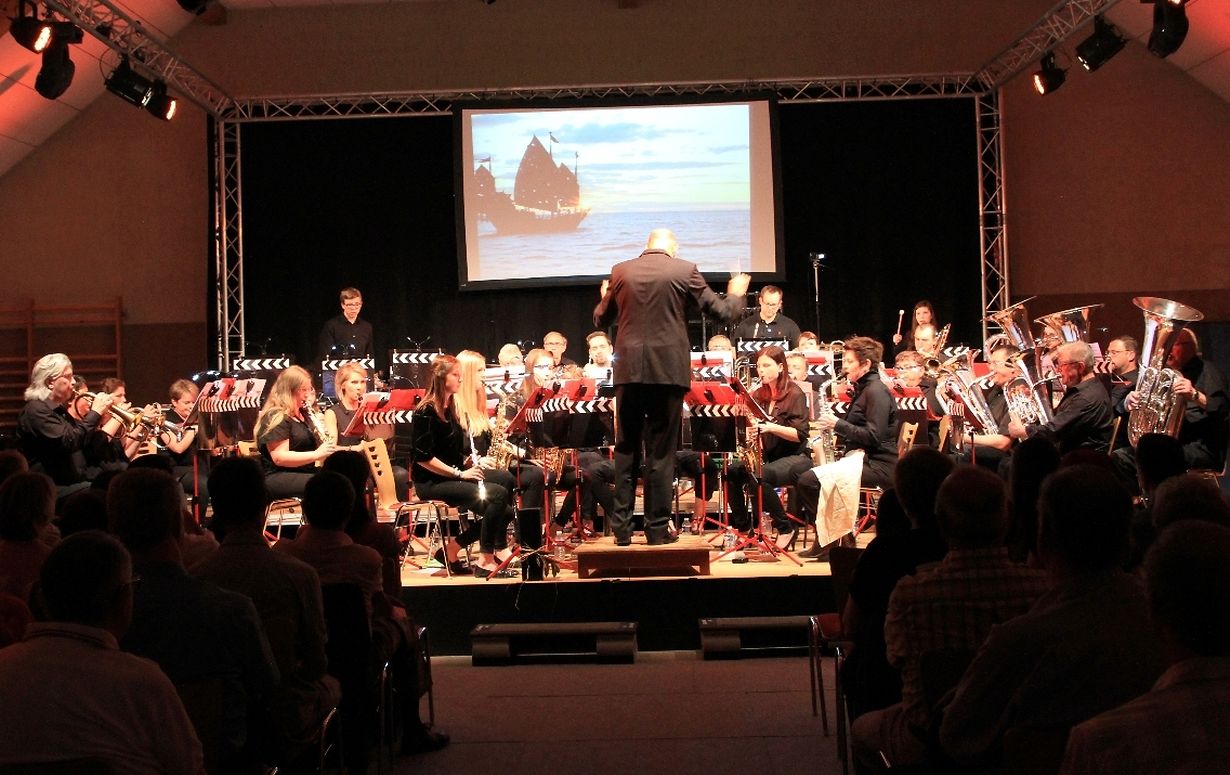 Zum Galakonzert hatte die ʺBierger Musekʺ (Fanfare Bourglinster) bestbekannte Beiträge aus der Filmbranche ausgesucht. Trotz des außergewöhnlich schönen Wetters hatten sich zahlreiche Musikfreunde in Bourglinster eingefunden um das diesjährige Frühlingskonzert zu genießen.
Gleich zu Beginn gelang es dem Jugendensemble "Niños" die Zuhörer mit drei Darbietungen zu begeistern. Unter der Leitung von Michèle Neuens zeigten sie ihr Können mit Baker Street March von Charles Michiels, Great Movie Adventures von John Williams sowie The James Bond Theme von Monty Norman und ernteten dafür kräftigen Beifall.
Dann folgte der Auftritt der ʺBierger Musekʺ mit Claude Weiland am Direktionspult und mit Bob Frisch als Moderator. Mit dem anspruchsvollen Huldigungsmarsch von Edvard Grieg startete der erste Teil, gefolgt von La Storia von Jacob de Haan, A Tribute to Lionel von André Waignein mit der ausgezeichneten Darbietung von Solist Ben Weiland (Vibraphon) und schließlich A Discovery Fantasy, ebenfalls von Jacob de Haan.
Im zweiten Teil des Galakonzerts bot die ʺBierger Musekʺ dann Filmmusik von Feinsten.
Mit Backdraft von Hans Zimmer gelang gleich der hervorragende Einstieg. Dann folgte Live and Let Die von Paul und Linda Mc Cartney mit Joe Kieffer (Trompete) als Solist. Dances with Wolves von John Barry weckte Erinnerungen an den gefühlvollen Film von Kevin Costner, und mit Autumn Leaves, (Les feuilles mortes) vom ungarisch französischen Komponisten Joseph Cosma und dem Text von Jacques Prévert gelang es Solist Francis Oppermann (Flügelhorn) die richtige gefühlvolle Stimmung auf die Zuhörer zu übertragen.
Als Höhepunkt des Abends hatte sich Claude Weiland für Pirates of the Caribian: At World's End von Hans Zimmer entschieden. Dieser Beitrag versetzte alle in die geheimnisvolle verrückte Welt des Piratenkapitäns Jack Sparrow und seiner Black Pearl. Dem heftigen Applaus folgte dann Mission Impossible von Lalo Schifrin in einem Arrangement von John Ryan als Zugabe.
Präsident Norbert Schmit bedankte sich bei allen Zuhörern, Helfern und Sponsoren, ganz besonders bei den Dirigenten, den Solisten und allen Musikanten, aber nicht zuletzt bei dem ʺSupporterklupp ʺ der ʺBierger Musekʺ für die Stiftung einer neuen Querflöte für Jenny Clement.
(Text:Norbert SCHMIT/ Foto: Win SCHAUS)