"Harmonie FNCTTFEL goes Hollywood" - Frühjahrskonzert der Hamonie FNCTTFEL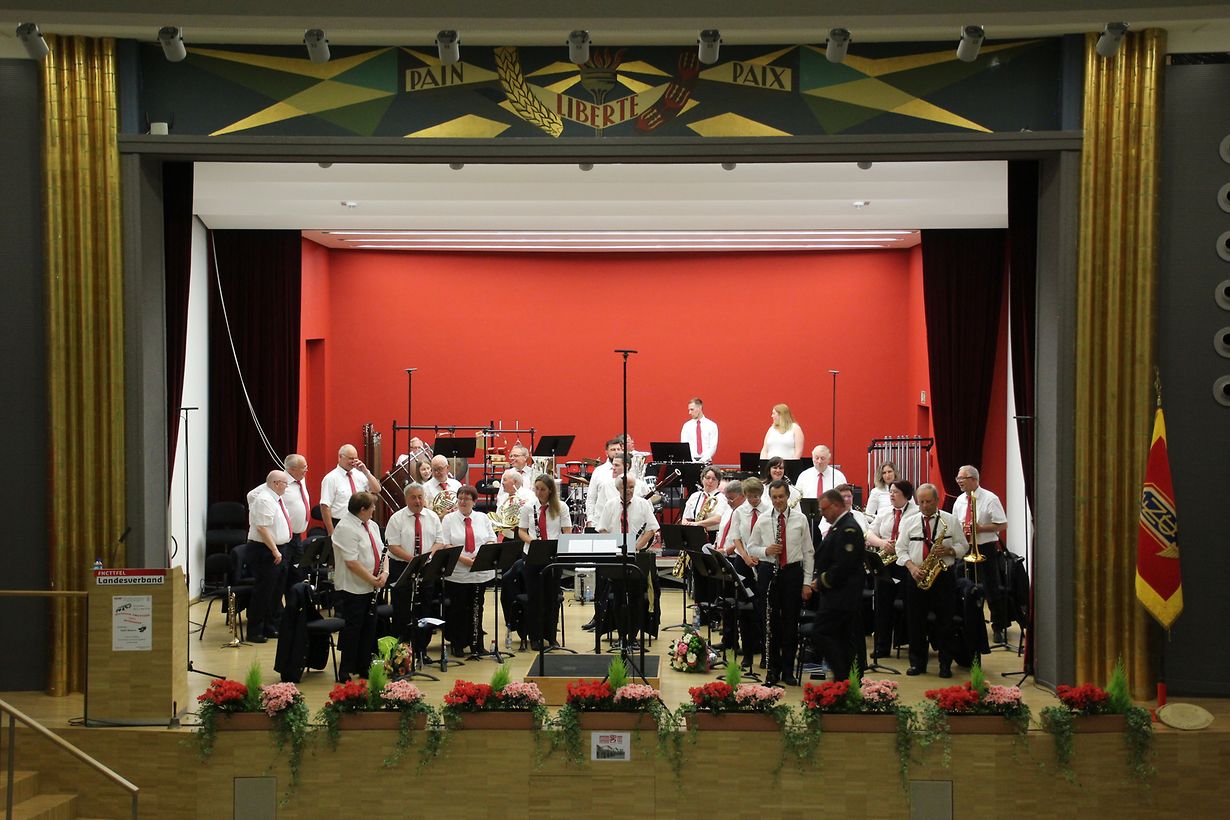 Das Frühjahrskonzert der Harmonie FNCTTFEL des Landesverbandes fand am 12. Mai 2018 im Festsaal des Casino Syndical in Bonneweg statt.
Präsident Robert Scholer begrüßte eine Reihe von Ehrengästen, u.a. Georges Merenz, Präsident des Landesverbandes; Nico Wennmacher, Ehrenpräsident des Landesverbandes und Präsident der Pensionäre des Landesverbandes; Josy Konz, Ehrenpräsident des Landesverbandes; Ed. Stalder von der Coopérative Casino Syndical Luxemburg S.C.; Christian Flora, Präsident der Radio-Amateure der UAICL; Emile Lutgen, vorangehender Präsident der Radio-Amateure der UAICL; Eugène Lanners, vorangehender Präsident der Philathelisten der UAICL; Raymond Stein, Sekretär der Chorale Albert Bousser des Landesverbandes; Jean Schammo, Regionaldelegierter der UGDA; Georges Conrad und Mathias Sassel, Ehrenmusikanten der Harmonie.
Unter der musikalischen Leitung ihres Musikdirektors Ralph Massard entführten die Musikantinnen und Musikanten der Harmonie FNCTTFEL ihre Zuhörer in die Welt der Film- und Musicalwelt.
Zum Auftakt des Konzertes ertönte die Titelmusik "Hawaï 5-0" (Morton Stevens) aus der bestbekannten Fernsehserie. Danach folgten "An American in Paris" (George Gershwin), "Mission Impossible" (Lalo Schifrin), Gulliver's Travels (Bert Appermont). Unter der Leitung der Sous-Chefin Danielle Block ertönte vor der Pause das Werk "Moment for Morricone" (arr. Johan de Meij).
Der 2. Teil des Konzertes startete mit "The Phantom of the Opera" (Andrew Lloyd Webber), gefolgt von "Around the World in 80 Days" (Otto M. Schwarz) und "Lerner and Loewe in Concert" (Alan Jay Lerner/Frederick Loewe) besser bekannt als "My Fair Lady"; diese Partitur spendete Kurt Miller, Bassist der Verbandsmusik.
Das abwechslungsreiche Programm, durch das Edmée Pauly-Klein führte, fand grossen Anklang und der langanhaltende Applaus belohnte die Musikanten für ihre Darbietungen. Nach der Zugabe waren die Musikliebhaber zum Empfang eingeladen wo der Konzertabend bei einem Gläschen gemütlich endete.
An dieser Stelle möchten wir uns bedanken bei Alphonse Classen, Mitglied der Exekutive des Landesverbandes, der den Abend in Bild und Ton festgehalten hat. Interessierte können sich das Konzert gerne anhören auf YouTube unter Eingabe von Harmonie FNCTTFEL.