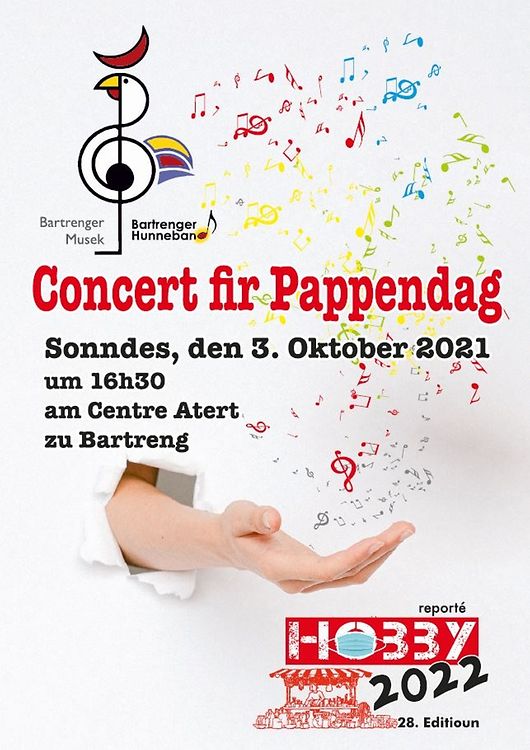 D'Bartrenger Musek an hire Jugendensembel, d'Bartrenger Hunneband, invitéieren op e Concert fir Pappendag am Centre Atert, e Sonndeg, den 3. Oktober 2021, um 16.30 Auer.
Si spillen ënnert der Direktioun vum Claude Origer.
Um Programm stinn ë.a. dës Wierker:
Les Misérables - Claude-Michel Schönberg
When you wish upon a star - Leigh Harline
The Lord of the Dance - Ronan Hardiman
Beyond the sea (La mer) - Charles Trenet
Bohemian Rhapsody - Freddie Mercury
Cabaret - John Kander
Mit 66 Jahren - Udo Jürgens
Entrée: gratis
De Concert gëtt gespillt ënnert den aktuelle sanitäre Reegelen - CovidCheck-Certificat!. Dowéinst ass eng Umeldung virum 30. September erwënscht.
Per Mail: mfbemtgen@pt.lu
oder beim Marie-France Bemtgen (Tel./Répondeur: 312124)