Starting from zero again
Luxembourg's university helps refugees turn new page in their lives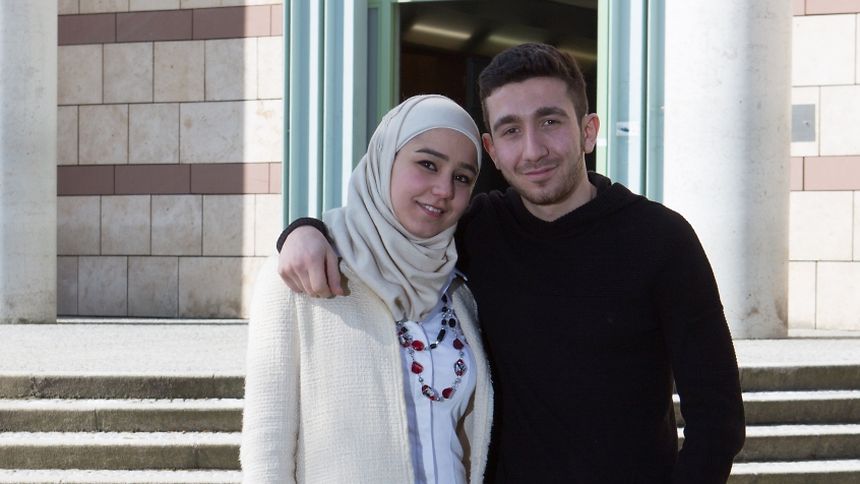 (JB) Ayham was in his third year of a degree in electronics and communication in 2013 when he was arrested in Syria for opposing the regime. During the two months and five days he was held, tortured and interrogated, he said he thought of one thing only: university.

"The campus was just one-and-a-half kilometres away from where I was being held. I kept thinking of my friends and dreamed of being able to go back to university," he said.

Ayham expected to die in captivity, but he was eventually released, badly malnourished and suffering major health problems.
In 2014, he fled for Luxembourg where his older brother was already living, attracted by the prospect of learning new languages.

Ayham said he mastered English by watching TV shows like "Friends" and signed up for intensive language classes before reaching out to the university.

"They said I could become a guest student. I could become a real student but it is hard here because of the three languages," he said.
Moving on with his life in Luxembourg

Ayham has been auditing a degree in Electrotechnics at the university since September last year. As a guest student he pays 50 euros per semester to attend lectures with other students, the main difference being he does not sit exams.
I was shocked here. I thought where are all the girls?
"There's no difference in the university level here compared with Syria. The classes are half the size here and facilities are newer," Ayham said, explaining one major difference was the gender composition of men and women, which was more balanced in Syria. "I was shocked here. I thought where are all the girls?"
The 22-year-old said that had he continued his studies in Syria, he would graduate next year. If he is bitter about the time lost, he does not show it and is now focusing on becoming fluent in German so he can complete his degree in Germany. Ayham said that eventually he hopes to be able to work for himself.

"What helps me most about the university here is I feel I am moving again in my life. Because I lost a few years of my life in education," he said, adding: "When I see how I'm learning languages in university and I've a plan, that really gives me a better feeling than sitting in a room and doing nothing."
Learning the skills to start a business

Older brother Wareef, 30, registered to study a Bachelor of Science in Management at the University of Luxembourg in September last year, two years after first coming to Luxembourg.

A graphic designer in Syria, he quit his job when endless road blocks and checks prevented him from getting to work. Wareef came to Luxembourg in the summer of 2013 where he said he quickly felt at home.

After considering his employment prospects in Luxembourg, Wareef turned his attention to the university, starting a Management degree in September last year to "make more use of my time until I found a job."

"I chose management not to work for another company but to be able to open my own company. Maybe in five or ten years. That's my goal," he said, "Now I've a chance to change my profession, why not?"
"We didn't live on Mars. We watch movies and know how life is here
University life did not present any great surprises. "We didn't live on Mars. We watch movies and know how life is here," Wareef said.

But, learning in French was challenging and though Wareef speaks English, Arabic and Russian fluently, after a few months he decided to become a guest student and continue learning while he studies French and German.

Driven by a desire to defend refugees

If the two brothers share the entrepreneurial spirit that drove their father, who ran a plastics factory in Syria, sister Reham follows a different trajectory, albeit one which is closely linked to her experiences in Syria.

"I want to be a human rights lawyer working with refugees. Because here I know what it's like being a refugee and how we suffer a lot to get here," she said. Reham practised law in Syria and, before fleeing for Luxembourg in 2015, did a lot of work defending prisoners who were being unlawfully held.
"I took up cases of people who had been arrested by the regime of Bashar al-Assad...I had some success. Some people were released."

She left Syria after her colleague was arrested, choosing Luxembourg because of the study possibilities.
"Here I have to start again from zero. I will have to complete a Masters and though I have started a Masters programme as a guest student, everything is in French," Reham said.
The 25-year-old is now studying intensively, attending up to four hours per day of lectures and then language classes in the evening in order to get up to speed. She does not hide the fact it is challenging and she is exhausted from the punishing schedule.

But, Reham is extremely driven, thanks largely to support from university professors and the knowledge that she will soon do an internship at the European Court of Justice.

I hope to be able to defend refugees and correct a lot of things
"That's so good for me. I really want to work there. I will do whatever I have to to be there and to succeed."

Reham later hopes to specialise in human rights and refugee rights law and to be a practising lawyer in Luxembourg within the next ten years.
"I hope to be able to defend refugees and correct a lot of things, like the way people think about refugees and what has happened in Syria," she said.
Get the latest news by signing up to our newsletter, following us on Facebook or Twitter.