Prince Guillaume and Princess Stéphanie in New York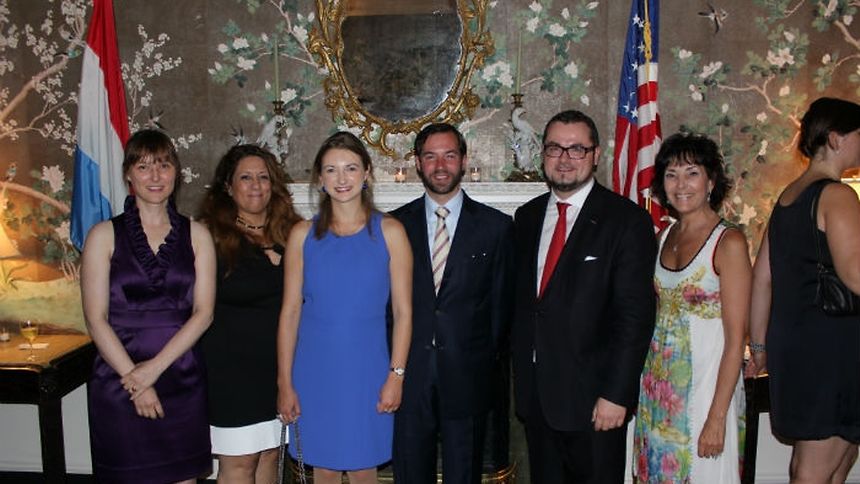 Luxembourg's Hereditary Grand Duke Prince Guillaume and Princess Stéphanie were guests of honour at a reception at the New York Consulate to Luxembourg on Wednesday night.
The glamourous couple were greeted at The River Club by 115 guests drawn from the Luxembourg community in New York, who were honoured by the meeting.
"I am very happy that at a time when the country is facing such a sensitive political situation, the Hereditary Grand Duke wished to honour his economic commitment and to take the time to meet with the local community," General Consul Jean-Claude Knebeler said in his welcome address.
Among the guests were Malou Donarski, a Luxembourger who served as secretary to the Grand Duchess Josephine Charlotte for two years before moving to New York.
"This is an event that warms the heart, especially when you have lived as an expatriate for more than 20 years and are nostalgic for home."
On Tuesday Hereditary Grand Duke Guillaume, serving as Honorary President of Luxembourg for Business, and his wife, Stéphanie, were present at the Luxembourg American Business Awards, an event organised by the Luxembourg American Chamber of Commerce (LACC) to reward economic relations between the US and Luxembourg.
This year's prize was awarded to Airtech Advanced Materials Group, which manufactures composite parts for a range of industries including aerospace and wind energy at its Differdange factory. Founded in 1973 by the Dahlgren family in Huntingdon Beach, California, the group has four manufacturing sites with Airtech Europe located in Luxembourg since 1991. The company employs 135 people at its Luxembourg facility.
The award is given every two years to an American firm and has previously been won by Goodyear, Dupont de Nemours, Guardian Industries and Avery Dennison, among others.
Economy Minister Etienne Schneider, who was expected to be part of the delegation, cancelled the trip because of the political situation in Luxembourg.
Speaking on his behalf Ambassador to the US for Luxembourg Jean-Louis Wolzfeld praised the contribution of Airtech to Luxembourg's business scene, while highlighting the company's strengths.
Normally, the ceremony would have taken place in 2012, but the event was postponed until 2013 because of the damage caused by Hurricane "Sandy" in the New York area.