Madrid
Spain will seek to dismiss Catalan president, Rajoy says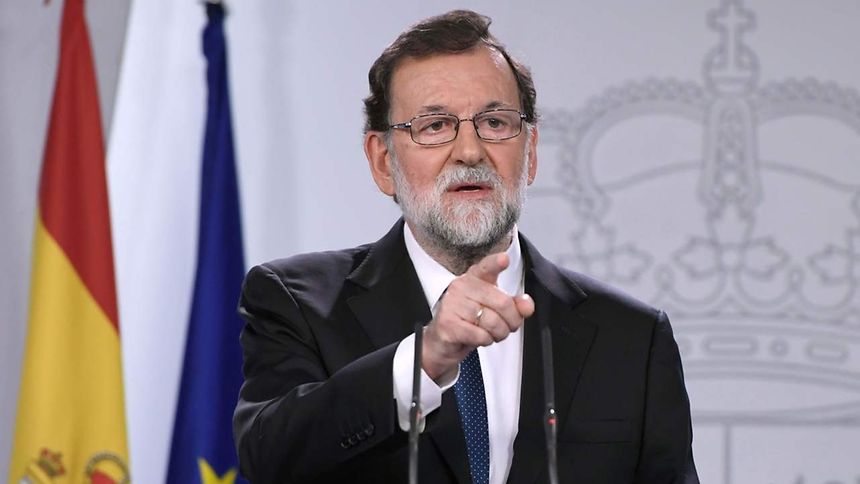 (Bloomberg) The Spanish government will seek to dismiss Catalan President Carles Puigdemont as part of a barrage of actions under Article 155 of the Constitution that aims to shut down the push for independence, Prime Minister Mariano Rajoy said.
Puigdemont and his regional administration will be removed from office once the Senate approves the government's plan as soon as this week and Spanish government ministers will take over the management of the Catalan administration, Rajoy said. The prime minister will also have the power to dissolve the regional legislature and said he aims to trigger fresh elections within six months.
"We are going to work to return to normality," Rajoy said at a news conference in Madrid after a cabinet meeting. "We are going to work so that all Catalans can feel united and participate in a common project in Europe and the world that has been known for centuries as Spain."
The move may be a watershed moment for Spain and its €1.1 trillion euro economy, which counts on Catalonia for a fifth of its output. Hundreds of companies have already set up headquarters elsewhere in the country to avoid the legal limbo that emerged after Puigdemont on October 10 claimed the right to an independent republic.
With the central government's measures due to come into force within days, Catalan leaders are due to meet Monday to discuss whether to push ahead with a unilateral declaration of independence. Puigdemont will make a statement at 9pm in Barcelona.
"Against totalitarianism, today more than ever, let's defend democracy and civil and political rights," Catalan Vice-President Oriol Junqueras said in a tweet after Rajoy spoke.
"Rajoy is showing the Catalans that the intervention has a clear time limit," said Narciso Michavila, the chairman of polling company GAD3, which has done consultancy work for Rajoy's People's Party. "He is clearing up some people's concerns about a long-term intervention."
Rajoy thanked two opposition parties, the Socialists and Ciudadanos, for their support for the measures. Between them, those groups have 250 out of the 350 seats in the national parliament. Rajoy said there's no way now that the measures can be halted, unless the Senate votes against them.
Rajoy said he wanted no more companies to take their registered offices out of Catalonia or for savers to take their savings from banks in the region. Major Barcelona-based companies including CaixaBank SA and Gas Natural SDG SA have moved their legal base out of the region because of the political uncertainty.
The independence struggle has thrust Catalonia onto the world stage, casting the regional capital Barcelona in a fresh and dramatic light. Spain's second-biggest city, a tourist hub and a major port on the Mediterranean, has been filled with hundreds of thousands of demonstrators, and thousands of police, at key moments in the battle.
Events reached a new level on October 1, when the Catalan government ignored Spain's Constitutional Court with an illegal independence vote, sparking street clashes between separatists and national police.
The decision to oust the regional government puts the two sides on a direct collision course. The article has never been used before and jurists say there's not consensus of what its consequences might be.
Get the latest news by signing up to our newsletter, following us on Facebook or Twitter.