Théâtre National du Luxembourg
A storm in their hearts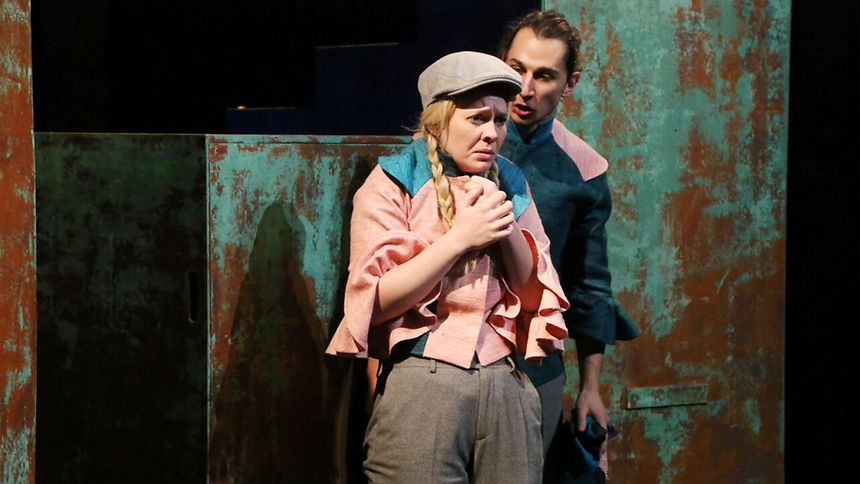 By Erik Abbott
"I don't believe in dullness. I believe in excitement, wonder and passion. I believe in people having a storm in their hearts."
A young woman, a student at an elite women's university speaks the above line to Mister Paradise, a lost and forgotten poet, in the first of five Tennessee Williams' one-acts of "Mister Paradise and Other Rare Electrical Things Between People" at the Théâtre National du Luxembourg (TNL).

This beautiful and arresting production, directed by Anne Simon, opened January 7 and continues in five additional performances through January 22.
The storm the idealistic young woman (Elisabet Johannesdottir in the first of four excellent performances) believes in seethes and churns and rages in the hearts of the characters in these five superb lost little gems—none of which were published or are thought to have been performed during the playwrights' life.

The storm simmers patiently, occasionally boiling over in defensive strikes in Mister Paradise himself (an impressive Steve Karier). It refuses to be extinguished in a young athlete (Daron Yates in strong form) whose near loss of a leg is little more than a delay to his self-assured glory. It smoulders just beneath, subtly melting the cynical façade of a wealthy socialite (a wondrous Christine Probst-Staffen) who agonises as her deepest romantic dream just may come true.

Fantastic designs, finely etched production

On Lisa Überbacher's fantastically theatrical set—three staircases burnished in coppery brown and splotched with oxidised green—Simon has directed a sharply edged yet finely etched production that captures the imagination and nourishes the soul. Überbacher's costumes augment the look, with Željko Sestak's lights and Joël Seiller's terrific make-up and hairstyles completing the evening's stunning look.

A wonderful soundtrack of blues and gospel anchor us in the geographies of the plays—Missouri, New Orleans' French Quarter, a hospital presumably somewhere in the South, upper crust New York, and a nameless dystopian city where even the most insignificant of accidental non-conformists are eliminated with compliant and brutal efficiency.

It is a collage of microcosms, foreshadowing amongst others the worlds of Stanley Kowalski, Blanche DuBois' Belle Reve, and Amanda Wingfield's St. Louis. Bracketed one against the other a theatrical universe of desperate but often hopeful beauty emerges, Williams' characters and lyrical words inviting us in and guiding us through.

Evocative staging, stellar cast
Simon's direction and staging throughout are lovely; even the scene changes entice. The characters move the scenery, leading us from one world to the next—sometimes literally.

The transition from "The Big Game into Lily, Why Do You Smoke So Much?" is one of the most compelling I've ever seen. As the orderly (Yates) and a junior nurse (Simon in an entertaining cameo) move the stairs, we bear witness to one character's passage into what lies beyond in the faint darkness. It is evocative, precise and beautiful—perfectly punctuating the plays before and following.
The cast is generally stellar. Johannesdottir seems to deepen and grow with each production she does. Probst-Staffen delivers fearless commitment and craft; her characters are at turns funny and heart breaking and always absorbing.

Steve Karier displays absolute precision and splendid humour with sudden bursts of emotion that surprise and delight. And Daron Yates never fails to capture and intrigue as he weaves in and out of these little worlds.

Each of these short plays is a little flash of brilliance. Presented together by a marvellous cast under Simon's meticulous direction and backed by the gorgeous work of the design team, the sum of the parts is a rare and sparkling treat indeed.
When and where

"Mister Paradise and Other Rare Electrical Things Between People" continues at TNL (194, route de Longwy, L-1940 Luxembourg) January 9, 16, 21 and 22 at 8pm and January 17 at 5pm.

Tickets: call 47 08 95 1 (Monday-Friday, 10am-6.30pm, or visit www.luxembourg-ticket.lu
Do not miss the news - sign up to receive the wort.lu newsletter in English delivered to your inbox six days a week.