During Eurovision Gala Night
Culture Minister agrees to Luxembourg's Eurovision return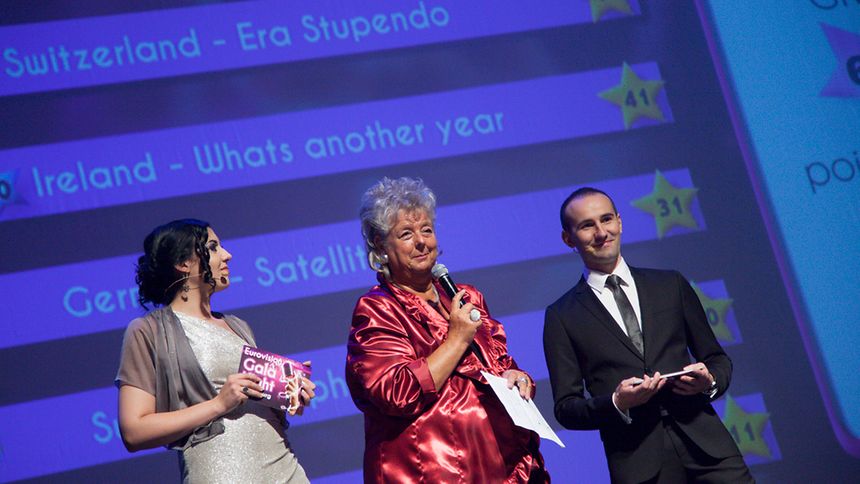 For the night's full report see article: Eurovision Gala Night 2014 winner is...
Update article: Luxembourg's Eurovision return is "misunderstanding"
(ADW) With Luxembourg being one of the most multicultural countries in Europe it is dismaying to many citizens as to why it is no longer part of the continent's biggest cultural event, the Eurovision Song Contest.
Well that could all be about to change as Maggy Nagel, Minister of Culture, is reported to have said "yes" to Luxembourg's return during the Eurovision Gala Night on Saturday.
The affirmation happened while one of the guests during the night, Linda Martin who won Eurovision in 1992 for Ireland with the song "Why Me?", stopped her set and turned to Maggy Nagel sitting on the front row before asking, "isn't it time Luxembourg returned to Eurovision?"
The public began applauding, but Linda pressed further, "it's time to raise the funds and get Luxembourg back where it belongs in Eurovision!". The Culture Minister nodded her head and is reported to have said "yes".
"She said yes everybody!" exclaimed Linda Martin, causing the crowd to erupt into cheers and applause.
The message was then repeated by Linda during her post performance interview on stage with the evening's hosts.
If Luxembourg does indeed return to Eurovision in 2015, it will be after an absence of 22 years.
► See also article: Eurovision Gala Night 2014 winner is...
Do not miss the news - sign up to receive the wort.lu newsletter in English delivered to your inbox six days a week.