European School II
Luxembourg school children make symbolic stand against bullying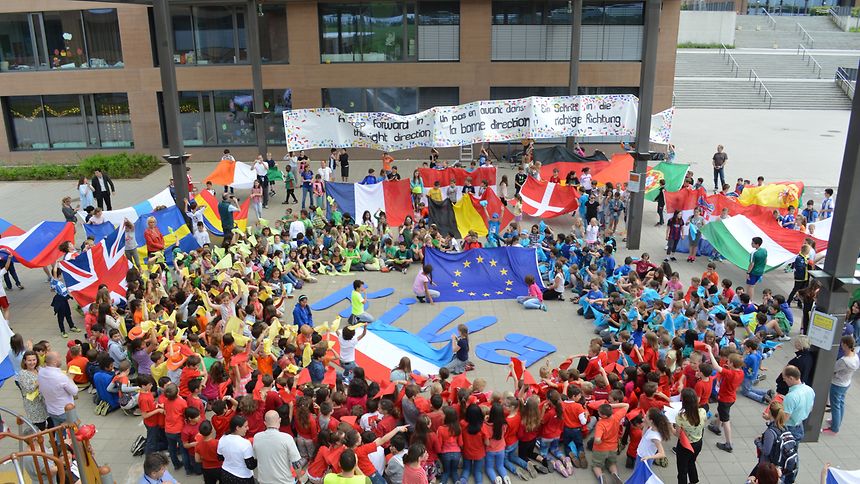 By Sarita Rao

Children in the primary section of the European School Lux II formed a human replica of the KiVa anti-bullying symbol in the playground last week.
Wearing the red, blue, green and orange colours of KiVa and carrying flags representing all the nationalities at the school, students also marked the occasion by singing a song about building a peaceful environment in which every child can learn and play together.
Throughout the school buildings, there were also displays from all ages of primary pupils in support of an environment in which bullying is not tolerated, including a giant banner presented in English, French and German with the words "A step forward in the right direction", featuring the hand and footprints of a number of students.

Preventing, tackling & monitoring bullying

The KiVa programme was first developed in Finland and is used there today in 90 percent of schools. It aims to prevent, tackle and monitor all forms of bullying, including cyber or SMS, by placing a strong emphasis on influencing all children – not just bullies and victims, to allow peer resolution.
Children and parents are encouraged to talk directly with the school about any incidences of bullying, and to recognise signs that a child might be being bullied such as lack of confidence, stress and anxiety or damaged belongings.
Approximately 20 hours of class room time is dedicated to the KiVa programme, helping children to understand their social environment with the use of discussion, role play, group work and educational films.

A programme across European school

"The school treats bullying very seriously and we have a number of measures in place to raise awareness of bullying at school, and help children make the right decisions if they witness or are affected by bullying at school," said Sarah Barlow, the co-ordinator for dealing with Bullying in the primary and maternelle section of the school.
Based on the latest research, KiVa raises awareness of the role the group plays in maintaining bullying, increases peer empathy towards victims of bullying as well as teaching coping strategies to victims of bullying. In extreme cases, individual and group actions with the bully, victim and class peers can take place.
The programme operates across all European Schools and has been used by schools and education authorities in several countries around the world.
Get the latest news by signing up to our newsletter, following us on Facebook or Twitter.