Social investment - "a great opportunity" for Luxembourg funds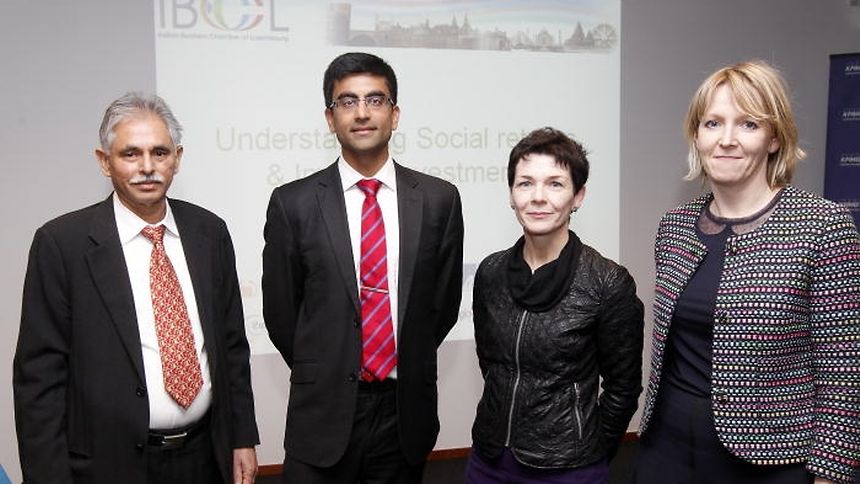 Responsible Investments (RI), recently heralded by the government as the third pillar of Luxembourg's fund sector, formed the focus of an Indian Business Chamber seminar on Tuesday.
The Indian Business Chamber event, dubbed "Understanding Social Returns and Impact Investment", welcomed three experts to KPMG's headquarters in Strassen, who gave informative and engaging talks on the sector.
RI strategies
Setting the scene, leader of the KPMG Luxembourg Climate Change & Sustainability Jane Wilkinson explained the different investment strategies of fund managers to RI, spanning from environmental, social & governance (ESG) impacts to engagement & voting.
She also highlighted the importance of the Responsible Investment field, saying that 6.7 trillion USD in RI assets were currently held in Europe (eurosif), of which a quarter was managed in Luxembourg.
These assets, she said, include pension funds and managed accounts which forms the largest proportion of the sector.
"The Luxembourg government wants this to be the third pillar of the Luxembourg Finance Sector. We have UCITS, AIF and we've RI," she said, adding: "This is seen as a great opportunity for investment to go forward."
Government committed to SI
The speaker also outlined steps taken by the Luxembourg government to promote this third pillar, through the Luxflag label, which will soon release an ESG label, and the creation of a social impact company, permitted under a new law.
Pratik Dattani, Managing Director of EPG Economic and Strategy Consulting and an economist with a wide range of experience in social impact measurement and social innovation, gave attendees a whistle stop tour of Social Investment models in the UK, where many projects are outsourced from government bodies for example in welfare and education.
He outlined the challenges of measuring social return on investment (SROI) in projects. "We try to benchmark returns across peers in the sector. But for those not working on spreadsheets it can be a meaningless number," he said, adding that SROI is less common because of selective samples compiled by organisations and the difficulty of measuring intangible outcomes., among other things.
One observation he made for SROI was to include the entire supply chain to understand the impact of each investment.
Clean tech and bio tech
Patrizia Luchetta of the Luxembourg Economy Ministry closed the speeches giving examples of potential social investments in Luxembourg's bio tech and clean tech industries.
These areas, she explained, were in need of finance during validation stages when public funding is scarce, and could potential yield huge values. Meanwhile, she said, these projects did not always require huge sums to be invested. Ms Luchetta called on the Luxembourg to raise awareness further about these projects in a bid to encourage social investments.
The next IBCL event will be held on February 13, addressing the impact of terrorism on the global economy, financial markets and tourism.