Job Fair
Moovijob Tour DeLux welcomes thousands of visitors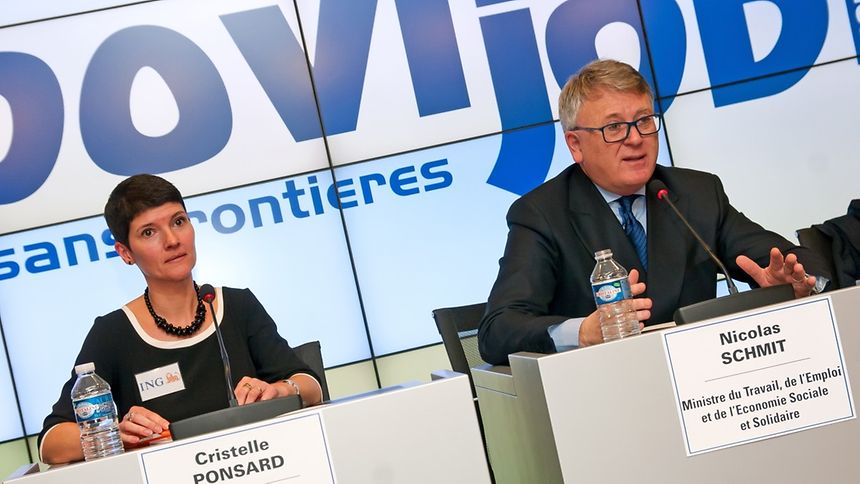 by Sarita Rao

Thousands of visitors attended Moovijob's Tour DeLux job fair at the Luxembourg Congrès in Kirchberg, on Thursday 17 March.
With more than 2,500 jobs on offer and 500 training opportunities, mostly in Luxembourg, this was the place to be for anyone considering a career change or the chance to hear more from Luxembourg's employers.
Taking part in a round table on the employment market in Luxembourg were Nicolas Schmit, Minister for Employment, Isabelle Schlesser, Director of ADEM, Claude Olinger, HR Director at Luxair Group, Cristelle Ponsard, HR Account Manager at ING, and Isabelle Poujol-Lamain, Recruitment Manager at CTG Luxembourg.
Minister talks of dynamic labour market
Prior to the round table, Nicolas Schmit told Wort: "Job fairs are very important. We have a great dynamic in our labour market. We are creating lots of good, quality, jobs. Our problem is to find the right people for those jobs."
He went on to say that companies were looking for skilled people, and it was important to attract talent from over the borders, as well as within the country.
The conference, now in its seventh year, featured some 150 exhibitors. Visitors were invited to find out more by sector, including thematic areas devoted to finance, IT & consulting, industry, construction, business services, and healthcare. International brands such as Amazon, Aldi, Fujitsu, ING, Gulf, and Orange rubbed shoulders with local businesses including, Cactus, D'Coque, and InTech.

More picture galleries
"Many people working in Luxembourg are cross-border commuters or expatriates, and this event gives them a unique chance to meet lots of companies and find out about lots of opportunities in one day," said Oriane Martin, Traffic & Community Manager at Moovijob, adding: "It's very important to meet recruiters face-to-face if you want to understand what a company will be like to work for and the spectrum of opportunities available to you."
Face-to-face contact
During the day, visitors were invited to attend eight conferences, including an introduction from the ICN Business School & Sacred Heart University on their MBA programmes, a talk from ING on the 10 commandments of the job seeker, and a presentation from Luxair on the journey a job application goes through.
ING employs about 800 people in Luxembourg: "We receive a lot of CVs, but a CV remains impersonal. Job fairs give us the opportunity to meet people who are interested in our company face-to-face, and conduct short interviews with hundreds of candidates," said Cristelle Ponsard, HR Account Manager for ING Luxembourg.
She also points out that in addition to having the opportunity to explain their experience in-person; potential applicants can ask ING specific questions about a job offer.
"Not everyone is right for us, and we're not right for everyone. We look for people with a talent for taking it on and making it happen, with an enthusiasm for helping others to be successful and a knack for always being a step ahead," she explained.
Luxembourg is particularly attractive because of its international and multicultural environment.
"Most of our employees speak at least two languages, and we communicate with our head office in Amsterdam predominantly in English," said Cristelle.
Charlène Gregoire from Bastogne, currently studying at the University of Liege, was one of the people waiting to speak to Cristelle. "I am looking for internships in digital marketing, and I hope to see at least 8 to 10 companies today," she said.
For those looking for learning opportunities, the Luxembourg Lifelong Learning Center talked about its training programme, and Relax Max founder and coach, Maxime Raux, provided insight on the seven keys to success.
Evgueni Evdokimov travelled from France to find out about commercial sales opportunities, particularly with the many banks represented at the fair. "I've given my resumé to a number of people today already," he said.
Upcoming job fairs in Luxembourg
If you missed Moovijob Tour DeLux, they will be back again with the Unicareers.lu fair, the official job fair of the University of Luxembourg, on Friday September 29, and on November 28, with the job party "Plug&Work Luxembourg" for Finance and IT professionals, both also at the Luxembourg Congrès.
Moovijob is a Luxembourg-based job board that also organises job fairs and job parties in France in addition to Luxembourg. People can find out more about their services on social media and through the website www.moovijob.com
Get the latest news by signing up to our newsletter, following us on Facebook or Twitter.